— -- If you looked at a photo of Russell Simmons 35 years ago, the co-founder of Def Jam Recordings says he looked like he was on the verge of death.
"I ate animal product. I did a lot of stuff that was, you know, hurtful to me ... I did drugs," Simmons told ABC News' Dan Harris during his "10% Happier" podcast. "Angel dust, I smoked a lot of that ... It was not very good."
Today, at 59, Simmons lives a completely different lifestyle. The philanthropist, entrepreneur, author and activist practices yoga and meditates twice a day and is a devoted vegan.
Simmons had his first experience with stillness at a yoga class -- which he fully admits he only attended at first for the girls.
"I went to class because of a lot of hot chicks. It's true," Simmons said. "It just got me from moving meditation to sitting meditation to reading scripture."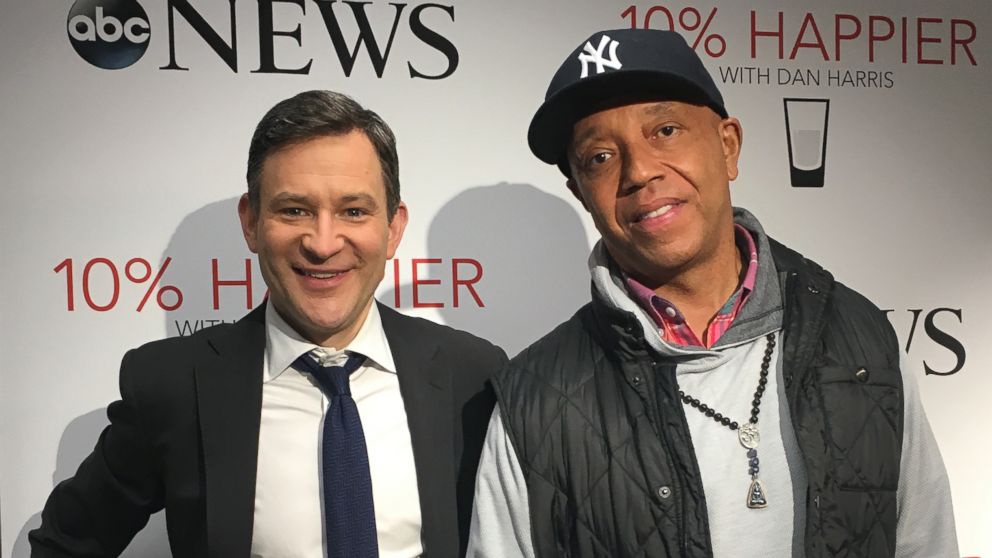 Through yoga, Simmons said he became more present and awake. From there, he moved on to practicing Transcendental Meditation.
For 20 minutes twice every day, Simmons meditates, repeating his mantra silently in his head.
"You have to learn to love yourself enough to take care of yourself," Simmons said of his lifestyle change. "Sometimes if you're lucky you get a chance to change your life."
Some of Simmons' own friends weren't so lucky. "Some are dead, some are in jail, and some survived. Most of the dead and in jail, so I'm very lucky," he said.
Still, there are days Simmons says he does still struggle.
"I mean, I still carry a lot of it," he said. "I'm not enlightened. I struggle all the time, but you know, I know better."
Music, especially hip-hop, has always been at the core of Simmons' life. He says he believe yoga and music go hand-in-hand.
"Music artists always operate from the inside out especially the writers, these poets. They operate from an inside and that's what we're all seeking," Simmons explained. "Yoga is the science of quieting the mind. Anyone knows a little bit about it knows it goes right along with any artistry because artists have to operate from a quiet mind. They have to have these seconds of presence because no creativity ever happens unless the mind is still."
The practice of meditation has also been beneficial to helping him maintain success in his personal business and philanthropic endeavors.
"You want to operate from a place of needing nothing," he said.
Subscribe and listen to the "10% Happier" podcast on iTunes, Google Play Music, TuneIn, on ABC Radio podcasts and under the "Listen" tab on the ABC News app.
Simmons has written several books about how he's improved his life through meditation and veganism. And two of the books included forewords written by President Donald Trump.
Trump and Simmons were good friends, Simmons said. According to Simmons, Trump had even flown Simmons and his brother Joseph "Reverend Run" Simmons to the Mar-a-Lago Club in Florida several times.
"Donald is fine," Simmons said. "He's a good friend, is very nice. He was very supportive of me in many ways and very nice to my family."
He added, "I get along with pretty much everybody ... I get along with Roger Ailes. I got along with Rupert Murdoch."
But Simmons said he and Trump haven't spoken since Trump ran for president and Simmons remarked that he'd "rather Kim Kardashian be president."
Simmons said that while he liked Trump as a friend, he dislikes him as a president.
"I don't like the choices he's made and like the people he's chosen to put in different positions," he said. "I don't like the agenda to empower the rich and cut off access to services to the poor. I don't like the war mongering. I don't like the treatment of the environment ... A lot of what he's saying -- it's so hurtful. It's unbelievable that Americans support it."
Simmons has worked to bring the practice of meditation to others, especially to schools in violent cities.
"In the most violent schools, we're turning around the level of violence. [It's gone] down dramatically," Simmons said. "Kids' ability to learn goes up dramatically, you know. So there's a lot of benefits to giving meditation to schools."
He also opened his school of yoga science, Tantris Yoga Studio, in Los Angeles, where mantra-based meditation is taught.
And if people don't know how to meditate, Simmons also provides a free mantra through his app, Meditation Made Simple.
"People should learn this compassionate practice so that it can be more than just the physical practice," he said.
Subscribe and listen to the "10% Happier" podcast on iTunes, Google Play Music, TuneIn, on ABC Radio podcasts and under the "Listen" tab on the ABC News app.