Seth Meyers thanked his audience for "indulging" him on Monday as he told a roughly 20-minute story about how his wife, Alexi, gave birth to their second child in the lobby of their apartment building.
"I called 911 and over the course of a minute conversation I basically said, 'We're about to have a baby, we're having a baby, we had a baby,'" the "Late Night" comedian said Monday, recalling the surprise birth of his 1-day-old son, Axel.
The 44-year-old comedian said he was feeding their 2-year-old son, Ashe, when his mother-in-law screamed that they had to get to the hospital fast.
"We basically get to the steps of our building, we're in the lobby and we're walking down the steps and my wife just says, 'I can't get in the car, I'm going to have the baby right now, the baby is coming.'
"The only way I can describe how my wife looked was she looked like someone who was hiding a baby in a pair of sweatpants. It was like somebody was trying to like sneak a baby on a plane," he joked.
Meyers said he tried to convince his wife to hold on just a little while longer, but it was much too late at that point.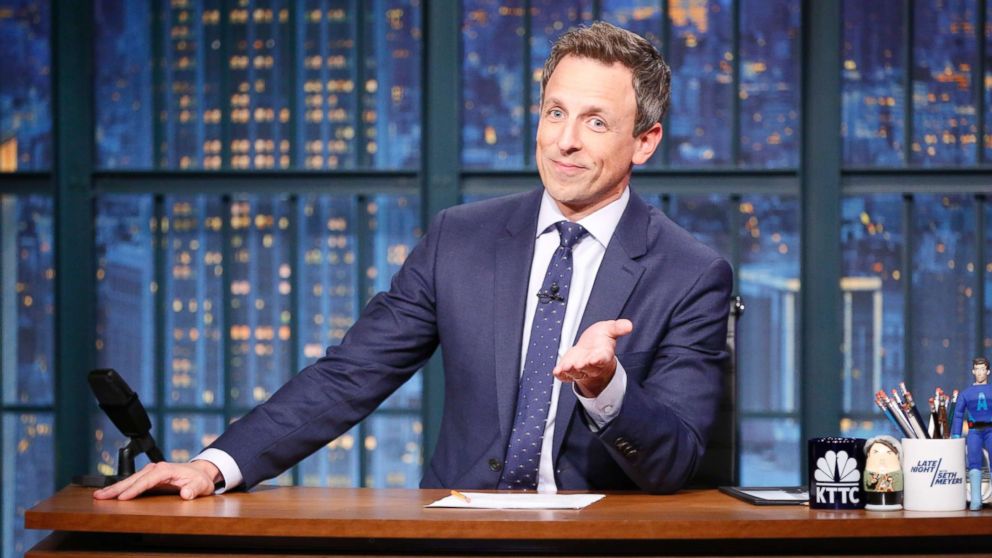 "So we walk back in and we had to decide, do we go into the lobby or back on the elevator. Those are terrible options when what you're looking for is a hospital," he said. "So my wife basically decided for us and she went and lied down in our lobby and we just sort of like created like a semicircle around her and you know, we undressed her and the baby was just out.
"So my wife basically takes our baby and puts him on her chest and is incredibly calm for what she just went through," he added.
The former "Saturday Night Live" actor went on to thank everyone who helped them safely deliver the baby boy.
"I just want to thank my beautiful wife Alexi, who is twice now an incredible rock star with these incredible deliveries and stories," he said. "And thank you to everyone here for indulging me on this crazy story and welcome Axel Strahl Meyers to the world."