— -- She's a timeless screen goddess, and after a lifetime in front of the camera, Sophia Loren is holding nothing back in her new memoir, "Yesterday, Today and Tomorrow: My Life."
The Italian actress, 80, reveals juicy tidbits from her storied career. From her relationship with famous leading men and her hidden talents to a 17-day prison stint, read on to see the candid side of the screen legend that most fans don't know.
She's a Scrabble whiz. Loren is great at Scrabble and even beat Richard Burton while they were on set shooting "The Voyage." "I know, it's hard to accept. Despite his immense knowledge and huge vocabulary, he succumbed to my supremacy," she writes.
Her childhood nickname was toothpick. As a child, Sophia was extremely shy and so skinny that other kids called her toothpick.
She turned down Cary Grant's marriage proposal. Cary Grant asked Sophia Loren to marry him at the end of the shooting of "The Pride & the Passion." Grant was 52 and Sophia was just 22. Though she turned him down, they remained good friends. She later married Italian film producer Carlo Ponti.
She spent 17 nights in prison. Sophia was sentenced to 30 days in prison for alleged tax evasion in 1980. She had a choice of never going back to Italy again, where her family lived, or serving a prison sentence. She ended up serving 17 days of her sentence and was then released and put under house arrest.
She was the victim of a jewelry robbery. Sophia was staying in a small cottage on the grounds of the Country Club in Hertfordshire, England, when she was shooting "The Millionaires" with Peter Sellers, when a thief, known as The Cat, got into her room one night and stole all of her fabulous jewels. During a break in the shooting, Peter Sellers handed her a small package, which contained a beautiful brooch, which her fellow workers gave her to console her.
She had a near-death experience. While she was shooting "Legend of the Lost" with John Wayne and Rossano Brazzi, Loren was staying in small hotel that had a gas stove. She woke up during the night with a bad headache, confused and feeling like she was going to faint. Loren didn't know it at the time, but she was asphyxiating from the gas stove's fumes. "I managed to crawl on my knees to the door and open it, but then I collapsed." And co-star, Italian actor, Rossano Brazzi, who was in the hall, saved her.
She thinks her mother has the best eggplant recipe. Loren and her "Once Upon A Time" co-star Omar Shariff both claimed their mother had the best eggplant recipe. While shooting the movie, Shariff's mother flew from Egypt to Rome, where she met Loren's mother and had a cook-off of sorts. Loren and Shariff put together an improvised jury, and to her dismay, Mrs. Shariff won by a slim margin.
She burns her personal diary every year. The star keeps a personal diary, but burns it at the end of every year. She told ABC News' Chris Connelly in an interview on "Good Morning America" that it's something she likes "to keep private."
She's related to an actress on "Rizzoli & Isles."Loren and husband, film producer Carlo Ponti, were married for 56 years before he passed away at age 94 in Switzerland. They had two children, Carol Jr., who is an orchestra conductor, and Eduardo, who is a filmmaker and happens to be married to actress Sasha Alexander, who stars on the TV series "Rizzoli & Isles." (She also has four grandchildren -- Lucia, Vittorio, Leonardo and Beatrice).
She has a special Academy Awards connection with Gregory Peck. In 1963, Sophia Loren presented Gregory Peck with a Best Actor Oscar for his work in "To Kill a Mockingbird." Twenty eight years later, in 1991, Peck presented her with the Cecil B. DeMille Award for Lifetime Achievement.
The iconic Jayne Mansfield photograph wasn't what everyone thought. Loren explains that the iconic photograph was taken at a cocktail party thrown by Paramount where Loren was the guest of honor. Mansfield sat down at her table and "started talking. As she got more and more worked up, suddenly I found one of her breasts in my plate." Sophia said of the incident: "She came right for my table. She knew everyone was watching. She sat down. And now, she was barely ... Listen. Look at the picture. Where are my eyes? I'm staring at her nipples because I am afraid they are about to come onto my plate. In my face you can see the fear. I'm so frightened that everything in her dress is going to blow -- BOOM! -- and spill all over the table." A reporter took a picture of the incident and it went around the world."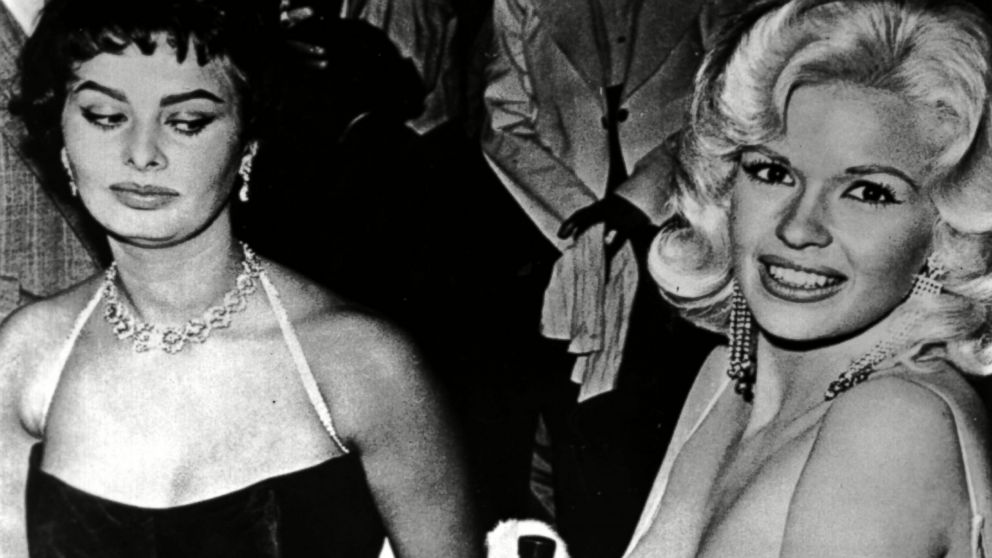 She had a bigger appetite than Audrey Hepburn. Loren and Ponti were invited to lunch at Audrey Hepburn's beautiful chalet while they were visiting Burgenstock, Switzerland, over Christmas in 1957. Hepburn served "a leaf of lettuce, a curl of fresh cheese topped by a smidgen of raspberry compote. In the plate next to it, a crisp roll, bite size." Loren assumed that this was the appetizer. However, the plates were cleared from the table and Hepburn got up and said, "I ate too much." Loren was starving and writes: "I was dying of hunger and as soon as we go home I made myself a sandwich."