In Sweden, Bruce Springsteen and the Ties That Bind
In Sweden, Bruce Springsteen and the Ties That Bind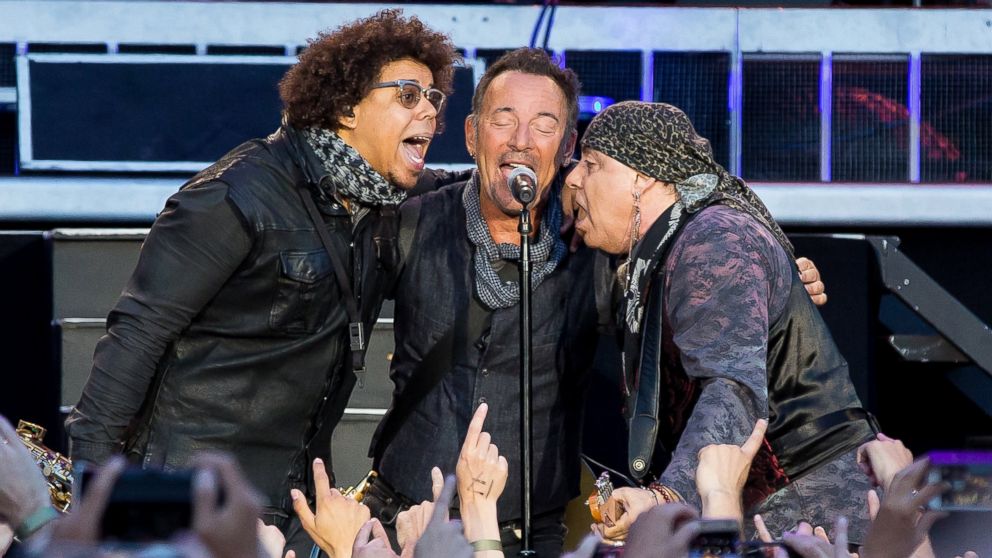 GOTHENBURG, SWEDEN -- Ullevi stadium, in this industrial port city on Sweden's west coast, was built as a soccer stadium with a capacity to hold up to 43,000 fans. Last night, as Bruce Springsteen and his E Street Band took the stage here, the large LED screen behind the band blared the number of paid attendees at 70,144.
"Thanks for having us back," Springsteen said before striking the first chords of "Meet Me in The City," a track from his 1980 album "The River Collection." The song, like much of his music of that era, perfectly blends his trademark bar-band rock sound with heartfelt lyrics of loss and redemption. "We're very happy to be back here in Sweden," he said.
The show was the band's third sold-out performance in Gothenburg in a month and caps a European tour that saw Springsteen pack arenas across the Continent.
Nearly 70,000 fans jammed Wembley Stadium in London last month to see Springsteen perform a 33-song set that stretched well past three hours. In Berlin, more than 65,000 fans dodged rain and humid weather in June to see the 66-year Springsteen perform at Olympiastadion, the cavernous sports arena Hitler built for the 1936 Olympics that saw "The Boss" belt out a rousing, sing-along rendition of "Born in the U.S.A."
In all, Springsteen has sold out more than two dozen arena shows in more than a dozen European countries on this tour, with thousands of diehard fans crisscrossing the continent to see him perform. From Milan to Dublin, Oslo to Rome, many of his shows sold out in minutes of tickets going on sale. Even ardent longtime fans, including many ex-pat Americans living abroad, can't recall a European tour that attracted more capacity crowds.
Yet despite an enormous and sustained popularity in Europe, Bruce Springsteen -- that quintessentially American rocker -- appears to draw his tightest connection to the continent here in Sweden.
The Scandinavian country was the first European concert Springsteen played on his first world tour back in 1975. Though that performance -- in support of "Born to Run" -- drew just over a thousand fans to a concert hall in Stockholm, it has taken on mythic proportion among Swedes.
"It's one of those events like Woodstock where more people than could possibly have attended claim to have been there," says Daniel Eriksson, a Swedish music journalist and longtime fan of Springsteen. "After the show Bruce ate at McDonald's which only existed in Sweden for a couple of years, so it was probably the only thing that reminded him of home at the time."
Springsteen later admitted to a local Swedish newspaper that he was petrified ahead of that Stockholm show.
"It was one of the first European countries I visited, 1975, and I was actually terrified," he told the Aftonbladet. "I had never left the States before, barely left New Jersey and had no idea what would happen," he said. "I've always been received well in Sweden ever since."
The Big Man's Ties to Sweden
Then there's Clarence Clemons, "The Big Man" to Springsteen fans, who played saxophone for the band until his death in 2011. He was married to a Swede for nearly a decade and spent months at a time touring the country in support of his solo work. Those performances, along with his soulful, out-sized personality, elevated Clemons to cult status in many corners of the country and raised Springsteen's profile among younger Swedish fans.
In 2012, on his last tour of Europe, Springsteen chose Gothenburg to perform "Jungleland" for the first time since Clemons' death. The song, which includes a roaring saxophone solo, was performed with Jake Clemons, a nephew of Clarence who now plays saxophone with the band. "Moments this beautiful can only happen when the artist and audience are as one," Springsteen's longtime manager, Jon Landau, said at the time.
That performance was part of a pair of sold-out shows the band played in Gothenburg in 2012 and still rank as a career highlight for Springsteen, Landau says. The shows drew more than 140,000 raucous fans.
"The two shows in Gothenburg were among the very highest moments in Bruce and the Band's history of performing," he told the Expressen, Sweden's largest daily newspaper. "The crowds were among the greatest I have ever seen–for any artist and the audience comes with a great knowledge of Bruce's work, a depth of feeling for all of it, and a special empathy for his artistry."
Though he's always maintained enormous popularity abroad, Springsteen's current streak of sold-out shows is especially striking given the disdain many Europeans continue to have for U.S. foreign policy in places like Iraq, Syria and Afghanistan. During the invasion of Iraq under George W. Bush - the height of anti-American sentiment in Europe - Bruce continued to sell-out arenas across Europe.
Springsteen and Europe
"Springsteen definitely touches a nerve in Europe," says Erik Kirschbaum, a Berlin-based journalist and author of "Rocking the Wall: The Berlin Concert That Changed the World." The book details Bruce Springsteen's concert before some 300,000 fans in East Berlin on July 19, 1988 and argues that performance - and the speech, in German, Springsteen gave at the show - helped bring down the Berlin Wall.
"I think his eagerness to tackle issues and themes that are important to ordinary people goes down exceptionally well in Europe," Kirschbaum says. "But also his courage to stand up and be critical of the United States and its government at times is also something that a wide swath of Europeans recognizes and appreciates."
"It may sound a little bit crazy to an American, but Swedish people can really identify with the lyrics and the simple themes of the songs," Martin Wallenberg tells me outside Ullevi Stadium. He and his wife drove just over four hours from a Stockholm suburb to see the Gothenburg show. This is his fifth Springsteen concert, the 49-year old says. "I saw him back in the late 1980's for the first time and it really became clear to me that seeing Bruce in Sweden was something special."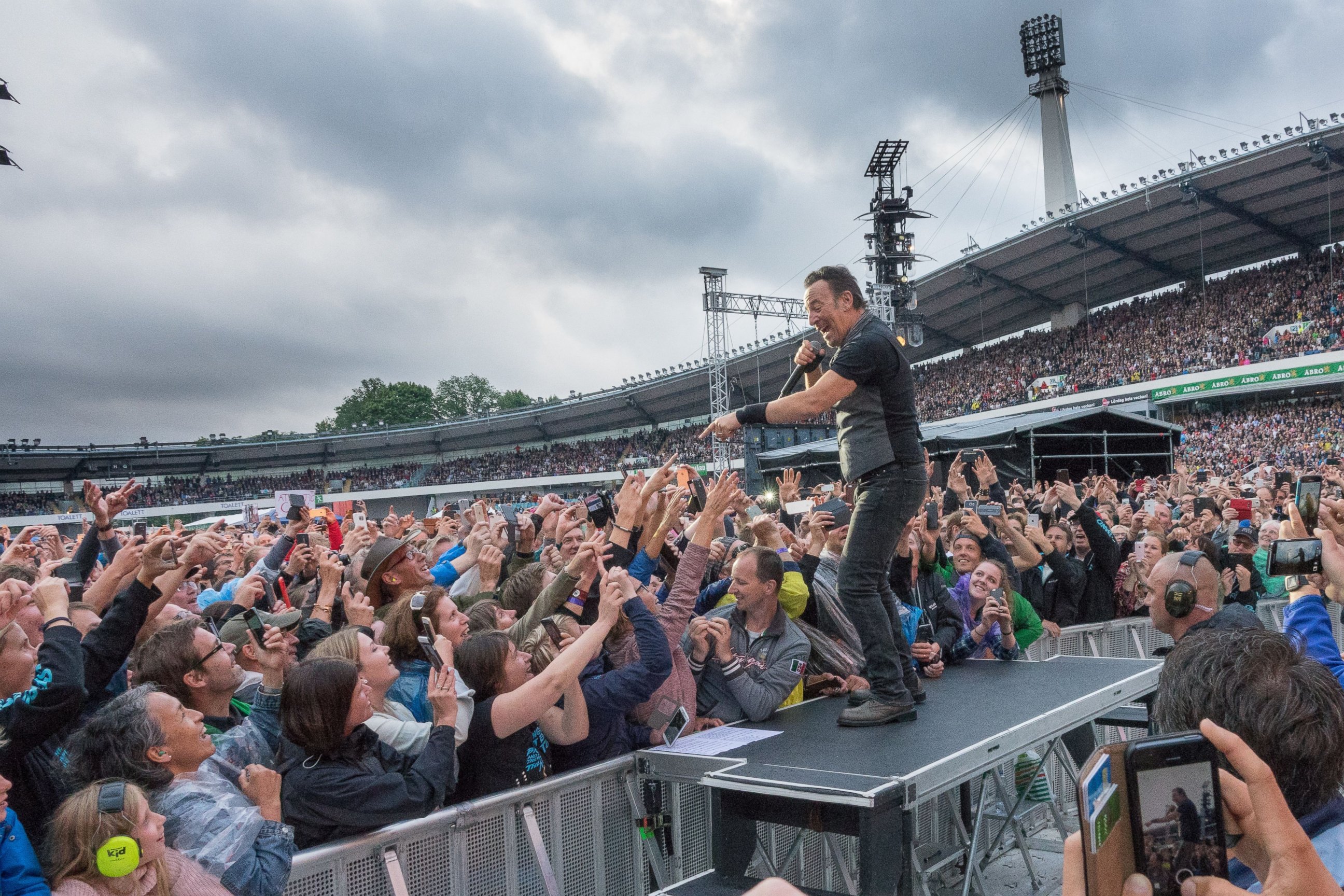 Springsteen in Gothenburg
Like the U.S. leg of his tour, last night's show in Gothenburg included performing the whole album of "The River." Released when he was 31-years old, Springsteen acknowledged the subtext of the album during a nearly four hour performance in a port city where the sun stays out well past evening hours in summer.
"Time sometimes feels like it's slipping away," he told a crowd of fans that have now had 36-years to absorb his albums. "When you enter the adult world, the clock starts ticking and you've got a limited amount of time to do your work, to raise your family, to try and do something good."
Onstage, Springsteen used personal stories of love, life and lust to connect with the audience between some songs. He also showed-off a playful coziness he still shares with the band: clowning with the guitarist Steve Van Zandt and occasionally sharing the microphone with band members.
He surprised fans standing close to the front rows of the arena by stepping onto a platform where people could reach his legs, take selfies and give high-fives.
Like at many of the shows on this tour, Springsteen used "Hungry Heart," arguably the most popular song from "The River," to best connect with the audience. While leading a raucous rendition of the song, he circled the stage and offered up his microphone to fans on the ground level to sing along.
"We ain't too old to party, people," he said, upright and back on stage while sharing the microphone with Nils Lofgren and embracing his his wife and backup singer, Patti Scialfa. "We aint too old to party."
The Tour Continues
Springsteen's tour with the E Street Band continues in the U.S. in August when the band plays 10 shows, including three performances at MetLife Stadium in New Jersey and two in Philadelphia. The tour ends on September 14 with a show at Gillette Stadium in Foxborough, Mass.
Contact Troy Mcmullen at troy.mcmullen@abc.com