Garth Brooks shares what sets his new Las Vegas residency apart from other concerts
The country music superstar welcomed "GMA" behind the curtain.
As country superstar Garth Brooks prepares to kick off his Las Vegas residency, he shared a backstage look at the new production with "Good Morning America."
"I plan on being here till they throw me out, so we'll see how long that is," Brooks told "GMA."
His residency at the Colosseum at Caesars Palace, "Garth Brooks Plus One," will deliver a new experience for country music fans.
"I'm hoping they get something here that they can't get anywhere else," Brooks said. "I think it's a laboratory, because it's a no phone, no video policy, which makes me go, 'Here's a song I was working on today.'"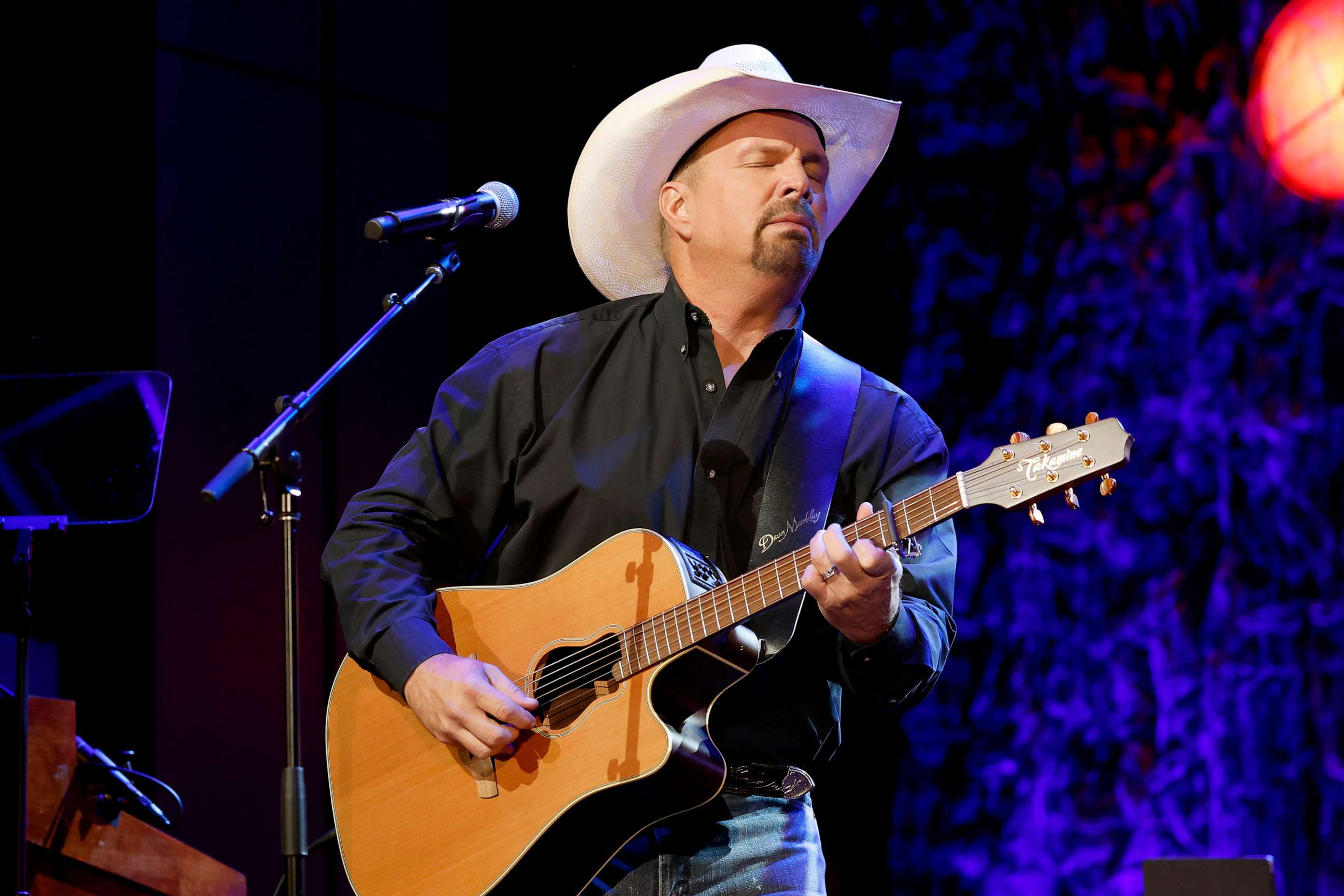 Last year, Brooks finished a 3 1/2-year global stadium tour that boasted over 3 million fans total.
His new venue is far more intimate. With just over 4,300 seats in the Colosseum, demand is so high that they've already added dates for next year.
Brooks was asked if he'd want to play into 2024, to which he said, "You bet your ass I'd love to do it."
"It's the fact that they show up is the surprise," Brooks continued. "One of the greatest reviews I ever got was somebody that walked out that says, 'I'm not sure what I just saw, but it was fantastic.'"
When asked what makes him such a draw, Brooks said, "I think I'm the best at having fun -- I really do."
"A great entertainer is that what they wanna see is what you wanna do. That's so lucky right there," he added.
The "plus one" in the show's title means audiences will never know who could take the stage with the country legend.
"When Trisha Yearwood starts to sing, it's something you've never seen before," he said of his wife and fellow country music superstar. "I have pulled her over after a show and [asked], 'Can you make it look hard? Can you just make it look hard?'"
With nine diamond certified albums to his name, Brooks has sold 157 million albums worldwide, which makes him the bestselling solo artist in U.S. music history. Despite the success, Brooks said he still cares deeply about each show.
"When somebody buys a ticket, and receives something that money can't buy -- that's hopefully when you've done what I think you're down here to do," he said. "I just can't believe this is happening."
"It's one of those things -- I think I'll go to my grave thinking this might be the only time God made a mistake," Brooks said with a laugh referring to his success.
"How is this happening? How did people show up?" he posited rhetorically. "I don't see why they buy a ticket to a Garth Brooks show, but it's so cool that they do."
A ticket to Brooks' show includes an evening with a band that plays together like family.
"Not only are we gettin' to play our stuff, which has proven itself for these people and these people have proven their love for it, we're all gonna get to be playin' the greatest songs in music history," he said laughing.
Before the residency kicks off, ABC News' Will Reeve got backstage access to watch him warm up before going out on stage.
Every Vegas show will be different, but Brooks said he'll always play his classics.
His residency kicks off May 18 at the Colosseum at Caesars Palace and registration for verified fans to get tickets for next year's dates is open through May 25.