My personal nightmare is that Hollywood will soon swamp us with pandemic movies under the idiotic notion that quarantined audiences are panting to see films about the hell of living in quarantine. Let "Locked Down," now available on HBO Max, stand as Exhibit A for how bloody awful a coronavirus-inspired movie can be.
I suppose the fact that director Doug Liman and screenwriter Steven Knight managed to dream up, cast, shoot, edit and release "Locked Down" in just a few months -- under severe safety restrictions -- counts for something. But in this case, it counts only as an early candidate for a 2021 Dubious Achievement Award.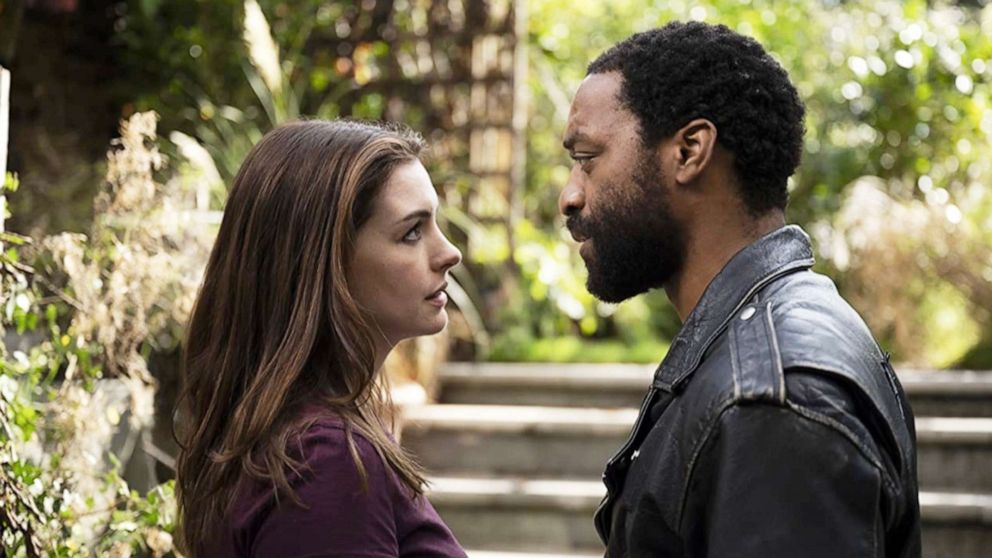 No knock on the actors. Anne Hathaway leads a starry cast of overqualified performers who futilely try to make us believe that we're not trapped in a gimmicky stunt that would have to do some just to qualify as a botch job. Hathaway plays Linda, a corporate exec serving at the whim of a boss (Ben Stiller doing slime to perfection) who casually orders her to fire her team of co-workers.
To add to her stress, Linda is breaking up noisily with Paxton (Chiwetel Ejiofor), her lover of 10 years. They social distance from each other in her posh London townhouse with an enviable backyard. Poor babies! Are you relating? Me neither.
In the early scenes, "Locked Down" scores a fun point or two about endless Zoom meetings and cursing hoarders at supermarkets. But even top talents such as "Les Miserables" Oscar-winner Hathaway and "12 Years a Slave" star Ejiofor can't survive the torrents of gasbag dialogue that the script lays on them. She hates herself for being a sellout. And he wallows in his lost dreams of being a poet and hopping on his motorcycle like a rebel out of an "Easy Rider" fantasy. Instead, Paxton runs illegal errands in a van for a shouty hood (Ben Kingsley) who provides fake documents that ID him as Edgar Allen Poe, the illustrious American poet no one in this film seems to know. These are the jokes, folks, snidely meant to ridicule the unwashed masses.
Download the all new "Popcorn With Peter Travers" podcasts on Apple Podcasts, Spotify, Tunein, Google Play Music and Stitcher.
It's at this point that "Locked Down" promisingly switches gears from a grating romcom to a heist movie, in which Paxton and Linda decide to rekindle their passion by robbing a $3 million diamond from Harrods, the eminent London department store where she used to work. That gives her security clearance. And her getaway driver is -- you guessed it -- Edgar Allen Poe.
Although Harrods closed during the pandemic, the legendary emporium opened its doors to Liman, who directed Brad Pitt and Angelina Jolie in their crime-as-a-cure-for-a-stagnant-marriage frolic "Mr. and Mrs. Smith." Visions of classic robbery romps, such as Steven Soderbergh's "Ocean's Eleven" and "Logan Lucky," dance in your head.
Don't get your hopes up. Liman is no Soderbergh. At least not here. What sounds like a delicious inside job quickly degenerates into a tension-free series of improbabilities that strain credulity beyond the breaking point. As for suspense, it's non-existent. Don't get quarantined with this sad excuse for experimental escapism. "Locked Down" is a major letdown. Hathaway and Ejiofor deserve better. So do audiences.