Oscars 2020 recap: 'Parasite' breaks barriers with best picture win, Eminem's unexpected performance
"Parasite" won best film, international film, original screenplay and directing.
"Parasite" was the breakout star of this year's Oscars by breaking barriers: the film became the first non-English movie to win best picture.
The suspenseful South Korean film, which focuses on class distinction through the relationships of the Park and Kim families, also won the Oscar for best best international film, original screenplay and best director.
The film "1917" took home three wins, followed by "Once Upon a Time... in Hollywood," "Ford vs. Ferarri," and "Joker," each with two.
The four big acting winners were as many predicted, with Joaquin Phoenix and Renee Zellweger picking up the Oscars for best actor and actress, and Brad Pitt and Laura Dern winning the supporting actor and actress categories.
Here is how the show played out:
Renee Zellweger pays tribute to Judy Garland
When Renee Zellweger won best actress for her role as the late Judy Garland in "Judy," she paid tribute to Garland.
Tune into the Oscars on ABC.
While "Judy Garland did not receive this honor in her time," she said, "I am certain that this moment is an extension of the celebration of her legacy."
Zellweger said Garland's "legacy of unique exceptionalism and, um, inclusivity and generosity of spirit. It transcends any one artistic achievement."
"Ms. Garland, you were certainly among the heroes who unite and define us," she said, "and this is certainly for you."
Joaquin Phoenix's long-winded speech
When Joaquin Phoenix won best actor for his role in "Joker," he used his winding speech to speak about a number of causes he is passionate about and speak about finding unity.
"I think that whether we're talking about gender inequality or racism or queer rights or indigenous rights or animal rights, we're talking about the fight against injustice -- we're talking about the fight against the belief that one nation, one race, one gender or one species has the right to dominate, control and use and exploit another with impunity," he said.
Tune into the Oscars on ABC.
"I think that we've become very disconnected from the natural world...what we're guilty of is an egocentric world view -- the belief that we're the center of the universe," Phoenix said. "We go into the natural world, and we plunder it for its resources. We feel entitled to artificially inseminate a cow, and when she gives birth we steal her baby. Even though her cries of anguish are unmistakable. And then we take her milk that's intended for her calf and we put it in our coffee and our cereal."
Phoenix said that he believes sometimes people "fear the idea of personal change because we think that we have to sacrifice something to give something up."
"But human beings, at our best, are so inventive and creative and ingenious, and I think that when we use love and compassion as our guiding principles. We can create, develop and implement systems of change that are beneficial to all sentient beings and to the environment."
Billie Eilish performed the Beatles' "Yesterday" for the in memoriam, which honored those who died in the film industry in the last year.
Among the dozens of people remembered were actress Doris Day, who died in May at the age of 97; actor John Witherspoon, who died in October at age 77; and actor Kirk Douglas, who died last week at the age of 103.
Also included was NBA great Kobe Bryant, who died with eight others in a helicopter crash on Jan. 26.
Bryant won an Oscar in 2018 for his animated short "Dear Basketball."
Bong Joon-ho's heartfelt thank you
Bong Joon-ho won best director for "Parasite" and extended a heartfelt thank you to his fellow nominee, legendary director Martin Scorsese.
"When I was young and studying cinema there was a saying that I carved deep into my heart which is 'the most personal is the most creative,'" he said through an interpreter.
"That quote was from our great Martin Scorsese," Bong added, in English.
Tune into the Oscars on ABC.
"When I was in school I studied Martin Scorsese's films. Just to be nominated was a huge honor -- I never thought I would win," Bong continued, through an interpreter.
Bong also thanked another fellow nominee, Quentin Tarantino.
"When people in the U.S. were not familiar with my films Quentin always put my films on his list," he said through the interpreter.
"Quentin, I love you!" he added in English.
But he didn't forget to thank the other nominees, too, adding through the interpreter: "I would like to get a Texas chainsaw, split the Oscar trophy into five and share it with all of you!"
Here's what you need to know about "Parasite," the film nominated for best picture at the Oscars.
'All women are superheroes'
Sigourney Weaver, Gal Gadot and Brie Larson joined together on stage to introduce a groundbreaking performance of this year's nominated best original scores.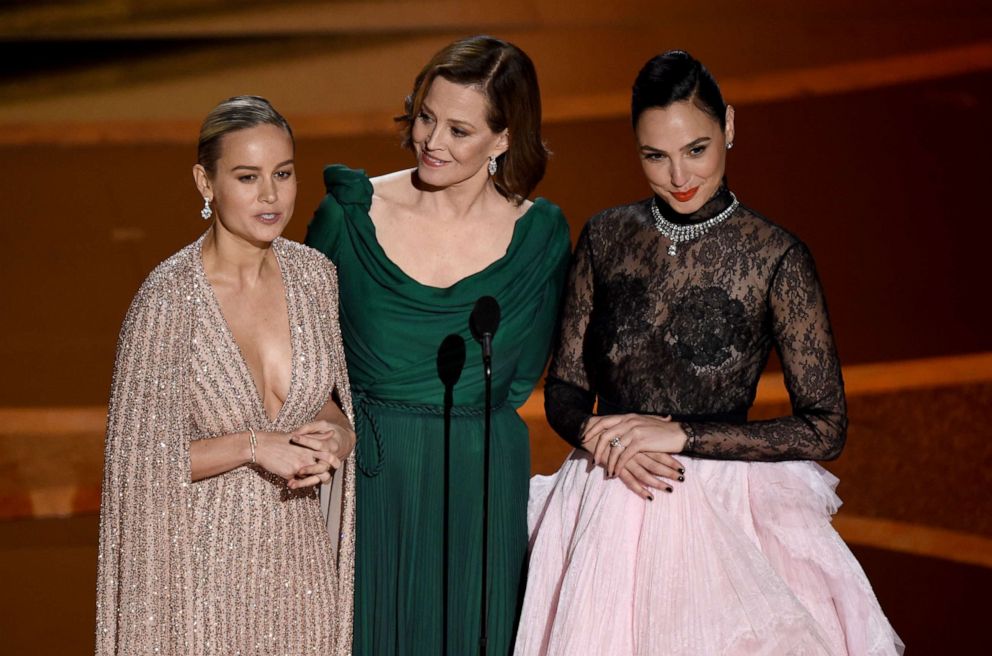 "We want to celebrate the first time in the 92-[year] history of the Academy Awards -- a female conductor will be leading the orchestra for this performance," Weaver said.
With Gadot and Larson by her side, Weaver said, "all women are superheroes."
Hildur Guðnadóttir then accepted the award for best original score for "Joker," and told the audience, "To the girls, to the women, to the mothers, to the daughters who hear the music bubbling within: please speak up. We need to hear your voices."
Eminem makes a surprising appearance
Rapper Eminem made an unexpected appearance on stage, performing his hit "Lose Yourself" from the 2002 movie "8 Mile."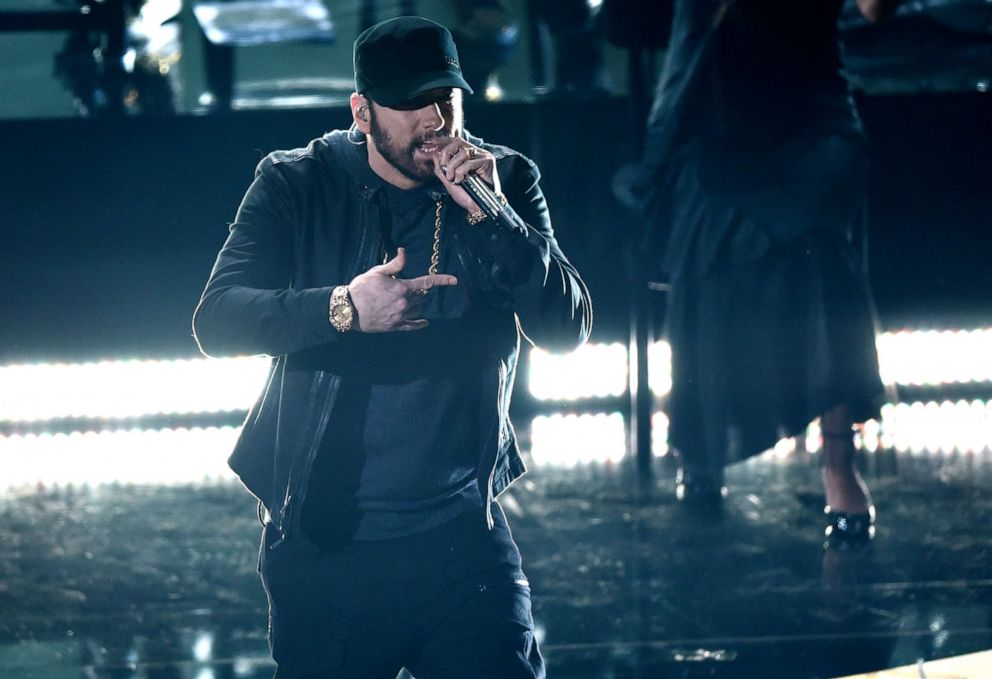 By the end of his performance, everyone in the star-studded audience was on their feet.
"Lose Yourself" helped Eminem win an Oscar in 2003 -- for best original song. But he didn't come to the ceremony to accept it.
After he took the stage Sunday, Eminem tweeted, "Look, if you had another shot, another opportunity... Thanks for having me @TheAcademy. Sorry it took me 18 years to get here."
Laura Dern's first Oscar
Best supporting actress winner Laura Dern gave a sweet, heartfelt speech when she won her first Oscar for her role as a headstrong divorce lawyer in "Marriage Story."
Among her thank-yous were her parents, actors Diane Ladd and Bruce Dern.
"Some say, never meet your heroes, but I say if you're really blessed, you get them as your parents. I share this with my acting heroes: my legends Diane Ladd and Bruce Dern," she said as the audience erupted in cheers. "You got game. I love you."
Laura Dern's mom came with her as an Oscars date.
Brad Pitt's first acting win
Brad Pitt won his first Oscar for acting, picking up the best supporting actor Academy Award for his work in Quentin Tarantino's film, "Once Upon a Time... in Hollywood."
In 2014, Pitt won a best picture Oscar for producing "12 Years a Slave."
The A-lister briefly got political in his acceptance speech, saying his 45 seconds to speak on stage is 45 more than "the Senate gave [former national security adviser] John Bolton this week" during the impeachment trial.
To his costar, Leonardo DiCaprio, Pitt said, "Leo, I'll ride on your coattails any day, man. The view is fantastic."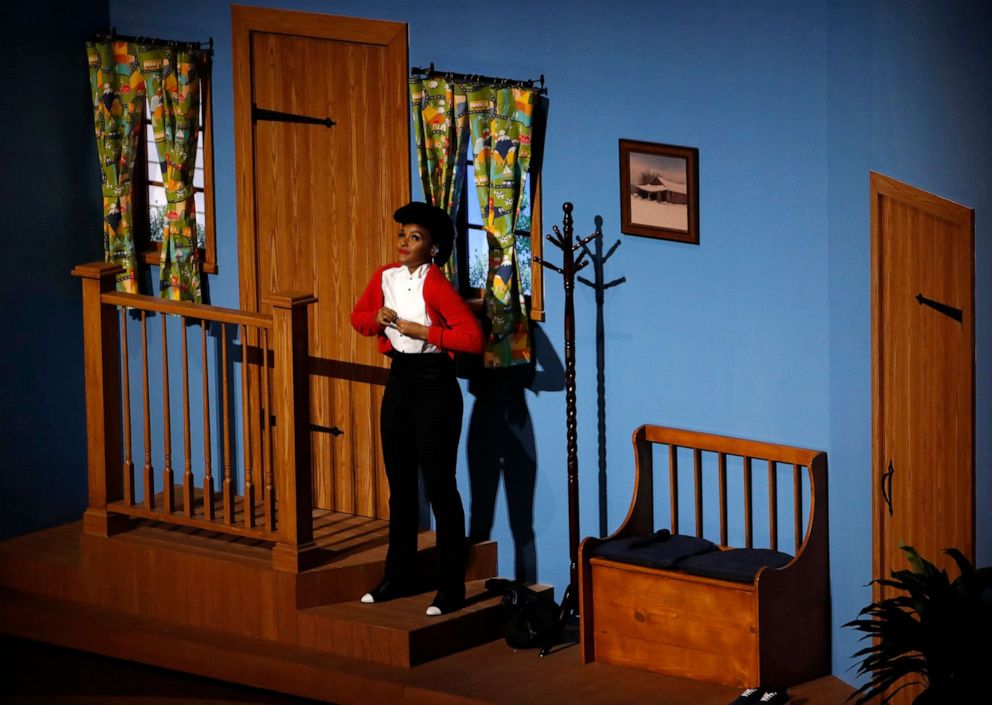 Pitt ended his speech with a shoutout to his six children with ex-wife Angelina Jolie.
"This is for my kids who color everything I do," he said. "I adore you."
Steve Martin and Chris Rock crack diversity jokes
Comedians Steve Martin and Chris Rock, who introduced the show, addressed this year's lack of female directors and actor diversity.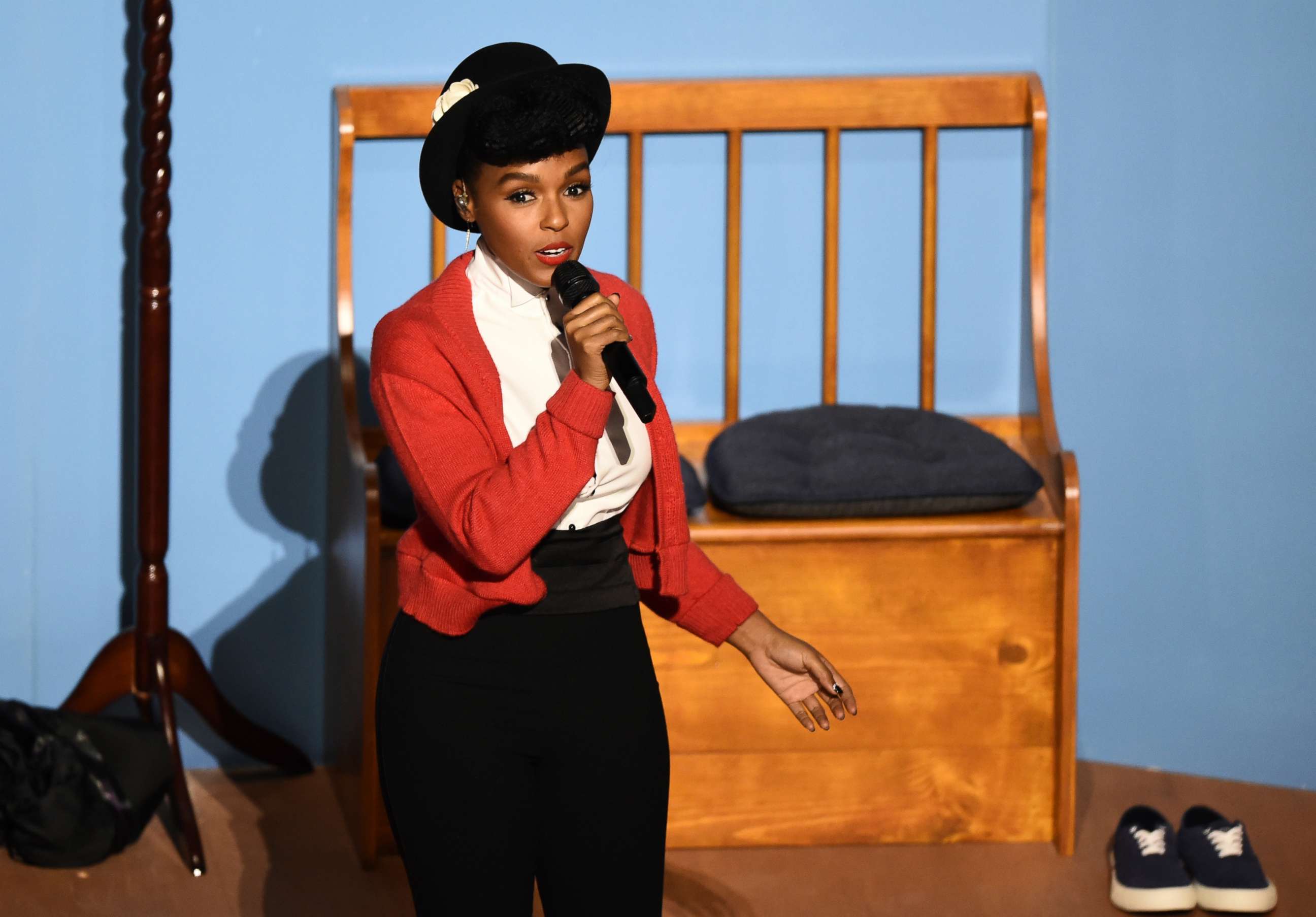 "Cynthia Erivo is here tonight," Rock said. "Cynthia did such a great job in 'Harriet' hiding black people that the Academy got her to hide all the black nominees."
Cynthia Erivo, who was recognized in the best actress category for her role as Harriet Tubman in "Harriet," is the only person of color to be nominated in the acting categories, along with 19 white actors and actresses.
Martin told the crowd, "Think how much the Oscars have changed in the past 92 years... back in 1929, there were no black acting nominees."
Then Rock added: "And now in 2020, we got one."
Janelle Monáe's musical number
Janelle Monáe opened the show with a musical number featuring Billy Porter, and even got celebrities -- including Leonardo DiCaprio -- singing along.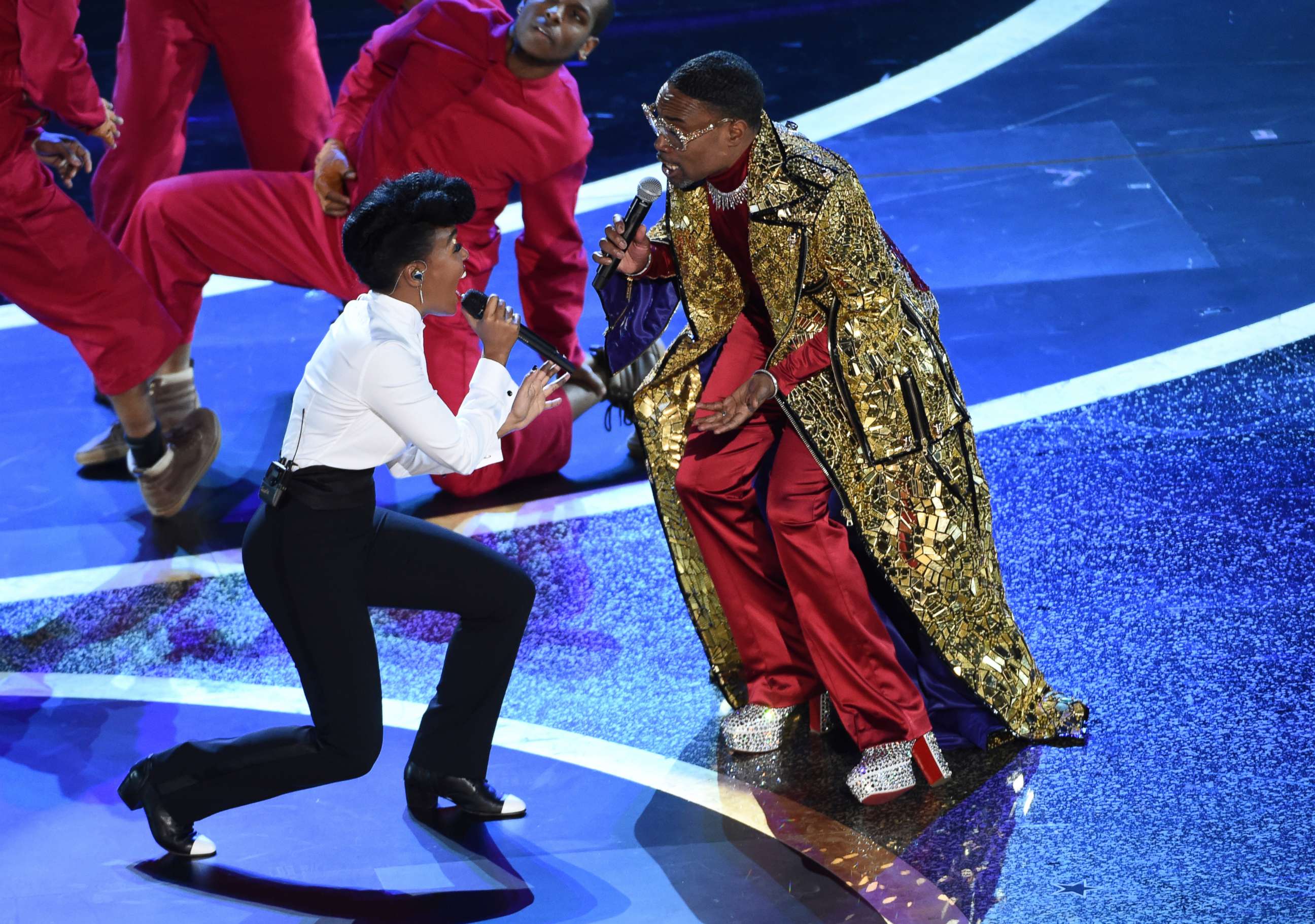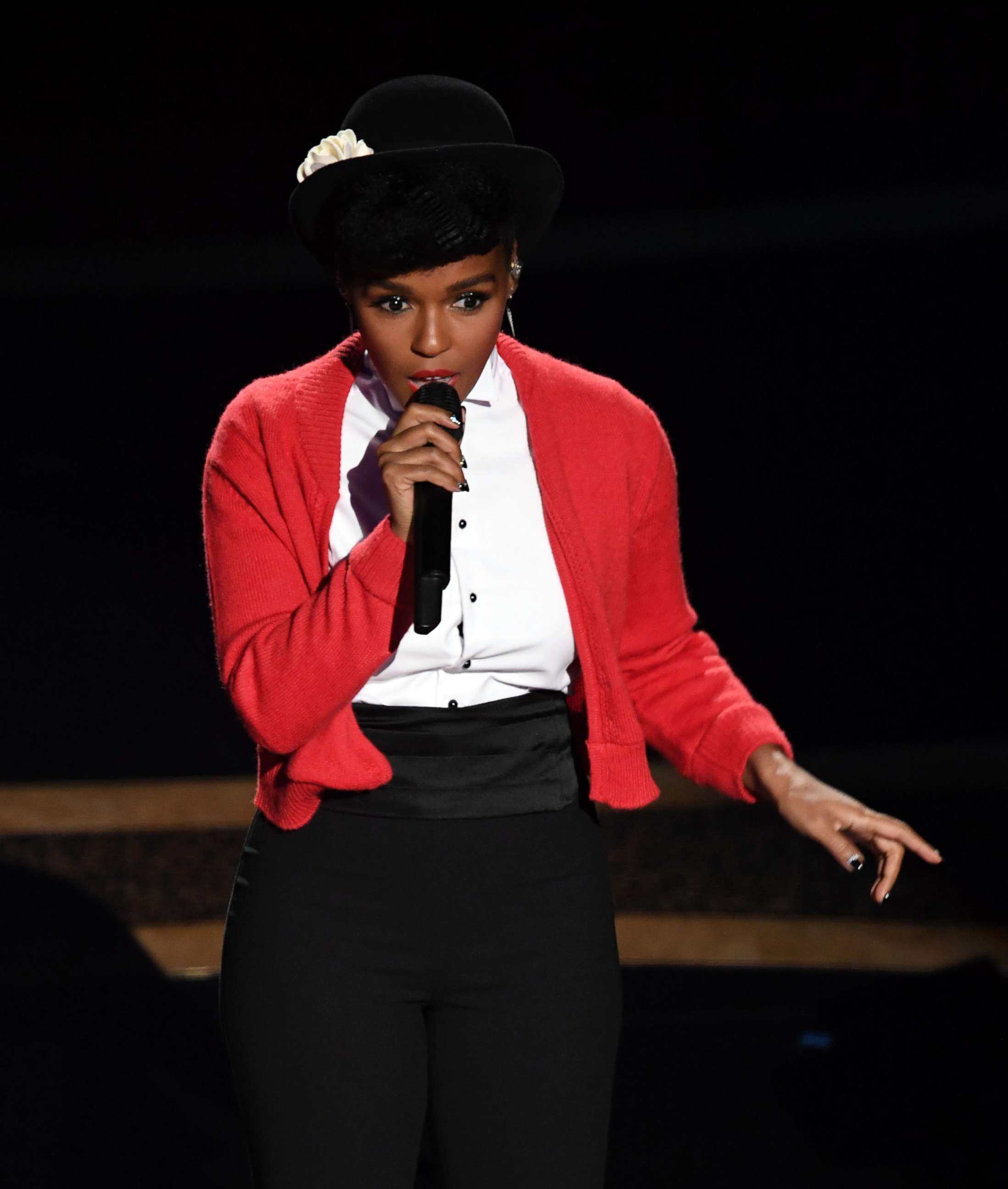 Monáe gave a shoutout to the women who directed films this year -- a jab at the Academy, after no women were among this year's best director nominees.
"Tonight, we celebrate all the amazing talent in this room," she said. "We celebrate all the women who directed phenomenal films and I'm so proud to stand here as a black, queer artist, telling stories. Happy Black History Month."
ABC News' Jesse Convertino, Hayley Fitzpatrick and Lesley Messer contributed to this report.