Prince William and Duchess Kate open up about raising their kids behind palace walls
William and Kate are the parents of George, Charlotte and Louis.
Prince William and Kate, the Duke and Duchess of Cambridge, give the public a glimpse into their private lives with their three children -- Prince George, Princess Charlotte and Prince Louis -- in a new holiday TV special.
The future king and queen of England joined British baking expert Mary Berry for "A Berry Royal Christmas" on BBC. The show, which airs Monday night, shows Kate and William helping Berry prepare a holiday party for some of their charities and organizations.
Kate, 37, revealed to Berry that she likes to cook at home with her kids, George, 6, Charlotte, 4, and Louis, 1, helping them be "creative" and "as independent as possible" in the kitchen.
Berry's pizza dough recipe was a dish the Cambridges most recently made together, according to Kate, who added that the kids "absolutely loved it."
In addition to cooking with mom and dad in the kitchen, Prince William spoke to Berry about the other ways he and Kate try to expose their kids to life outside the walls of Kensington Palace, where the family lives.
William said he encourages conversations about the world with George and Charlotte as they drive to their school, Thomas's Battersea School, located in London just a few miles from Kensington Palace.
"On the school run – I know it sounds a little bit contrite – but on the school run already, bear in mind 6 and 4, whenever we see someone who is sleeping rough on the street I talk about it and I point it out, and I explain," said William. "And they are all very interested. They are like, 'Why can't they go home?'"
William, who is patron of the homelessness charity Centrepoint, described following in the footsteps of his mom, the late Princess Diana, who famously brought William and his younger brother Prince Harry to charities she visited.
William filmed part of the TV special with Berry at The Passage Charity, which describes itself as the U.K.'s "largest resource for homeless people." Diana took William and Harry to the charity when they were young.
"She realized that it's very important when you grow up, especially in the life we grew up in, that you realize life happens beyond palace walls, and that you see real people struggling with real issues," William said of Diana. "She liked to challenge the social norms about charities and disadvantaged and vulnerable people."
William gave a glimpse into his and Kate's relationship too, revealing they talk about their work just like any average couple would at the end of the day.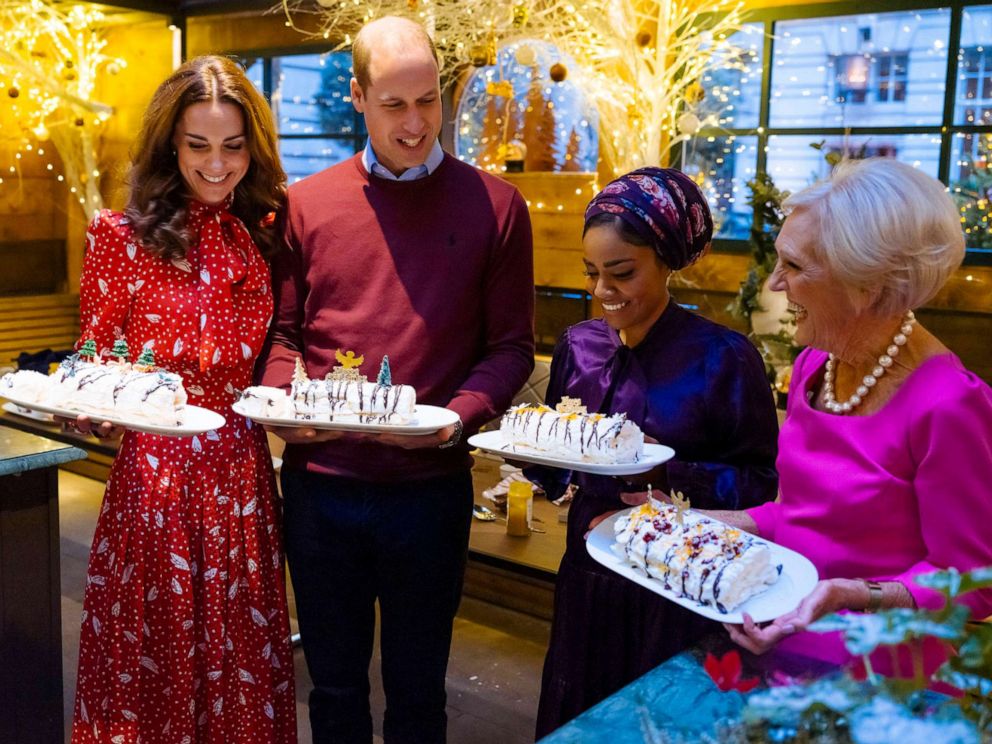 "We share ideas, but she was the one who linked all the mental health stuff together," William said, referring to Heads Together, the mental health-focused charity he and Kate founded in 2016 along with Prince Harry. "She realized that my work, Harry's work and her work were all headed in different directions but all dealing with mental health, and she was the one who joined the dots and said, 'We need to tackle mental health.'"
The "A Berry Royal Christmas" special is slated to air on Dec. 16 at 8:30 p.m. on BBC One.