It's near impossible to make a movie epic that will knock your eyes out and still touch your heart. But director Denis Villeneuve ("Arrival," "Blade Runner 2049") does the impossible with "Dune"—now in theaters and on HBO Max. He's wrestled Frank Herbert's dauntingly complex 1965 sci-fi novel to the screen and set it soaring.
Not without setbacks. This "Dune" can sputter and flirt with incoherence as it takes 155 minutes to tell a tale that only encompasses half of the book. And those who watched the great David Lynch get tangled up in his knotty 1984 film version may be understandably wary.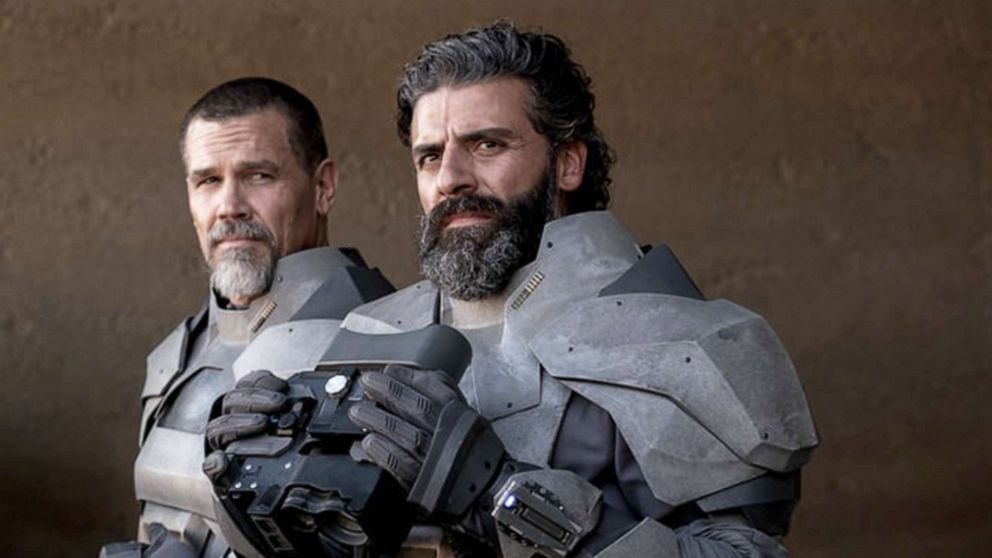 Don't be. Canada's Villeneuve finds the pow and the poetry in this pandemic-delayed cornucopia of visual astonishments that cost $165 million to produce and kept its cast of acting aces, led by Timothée Chalamet, Oscar Isaac, Rebecca Ferguson, Josh Brolin, Javier Bardem and Zendaya, sweating in the deserts of Jordan and the United Arab Emirates to make it happen.
You don't see the sweat, just the high-flying imagination of the extraordinary creative team. With due respect to all of them, the desert deserves top billing in "Dune" since the staggering vistas and sweeping sands dwarf mere humans and are never out of sight and mind.
Chalamet, like a guppy Lawrence of Arabia, stars as Paul Atreides, the potential savior of this futuristic odyssey who soon learns the desert has all the power. His mission is to leave the wet planet of Caladan, ruled by his father Duke Leto (Isaac) and mother Jessica (Ferguson), to help them colonize the arid planet of Arrakis on the orders of an unseen emperor.
Download the all new "Popcorn With Peter Travers" podcasts on Apple Podcasts, Spotify, Tunein, Google Play Music and Stitcher.
There are obstacles Paul must first surmount. Arrakis has been under the control of the violent House Harkonnen, headed by evil Baron Vladimir (Stellan Skarsgård), who doesn't give up easy. And there are the locals, known as the Fremen, with glowing blue eyes, who claim Arrakis as their own. Paul has dreams of a Fremen beauty, played with alluring mystery by Zendaya.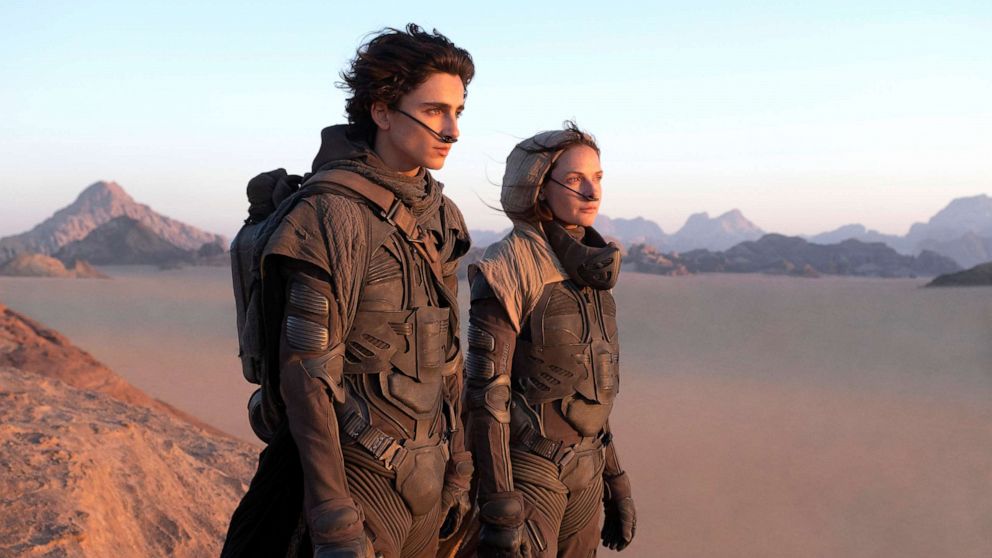 Arrakis, the Dune of the title, is the source of an addictive spice that can extend life, spark shifts in power and inspire creative feats such as a space fleet that defies rules of gravity. Just wait for the ornithopters, which are a cross between helicopters and dragon flies.
Guarding the spice are massive sandworms—easily the movie year's scariest and most enthralling special effect—that indicate young Paul has his work cut out for him if he's going to be a messiah for the Fremen on this dangerous planet of the future.
Paul has help, of course. His mother heads a semi-religious order known as the Bene Gesserit, which can confer superhuman abilities. On the practical side, Paul can count on the Duke's loyal men-at-arms, Gurney Halleck (Josh Brolin) and Duncan Idaho (Jason Momoa). Momoa gets a few welcome laughs by mocking Paul's lack of muscle. It's brains that count.
Chalamet carries the role on his slender shoulders, gradually achieving a sense of gravity that makes us eager to see how Paul will face his fate. Unfortunately, if you didn't read the book, you'll have to wait to see that happen on the big screen.
"Dune" is definitely a "Part 1" with no "Part 2" on the horizon just yet. Frustrating? You bet. But Villeneuve, pouring stamina and soul into his passion project, keeps us hanging on. Is that enough? Only time and the fickle gods of box office will tell. But the potential is off the charts.