A jury has sided with Johnny Depp in the high-profile defamation trial between him and his ex-wife, Amber Heard. The jury awarded Depp $10 million in compensatory damages and $5 million in punitive damages.
Heard was awarded $2 million in compensatory damages and no punitive damages.
Virginia law states that punitive damages is capped at $350,000, so Depp will receive a total of $10.35 million.
Depp reacted on Instagram, saying, "False, very serious and criminal allegations were levied at me via the media, which triggered an endless barrage of hateful content, although no charges were ever brought against me. It had already traveled around the world twice within a nanosecond and it had a seismic impact on my life and my career."
"The disappointment I feel today is beyond words," Heard said in a statement to ABC News. "I'm heartbroken that the mountain of evidence still was not enough to stand up to the disproportionate power, influence, and sway of my ex-husband. I'm even more disappointed with what this verdict means for other women. It is a setback. It sets back the clock to a time when a woman who spoke up and spoke out could be publicly shamed and humiliated. It sets back the idea that violence against women is to be taken seriously."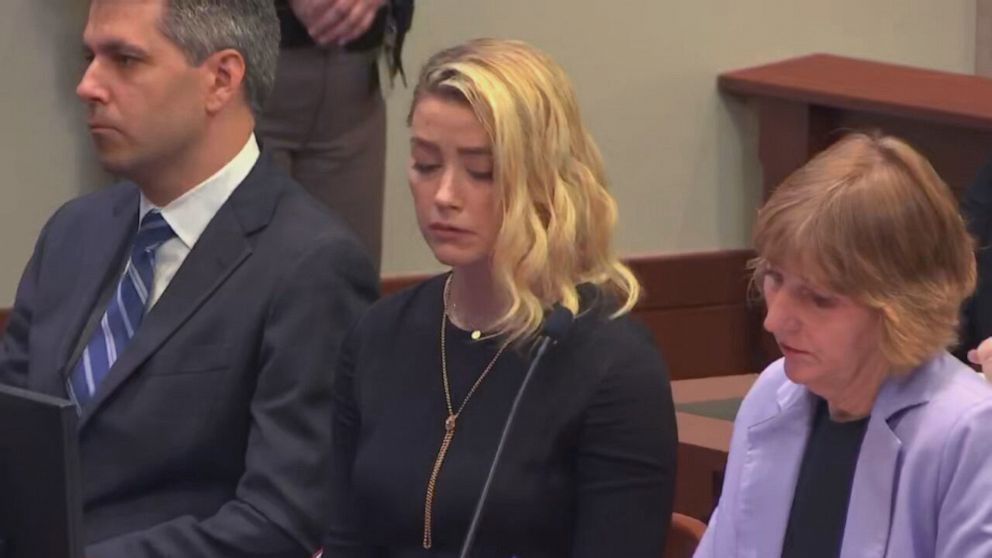 She continued, "I believe Johnny's attorneys succeeded in getting the jury to overlook the key issue of Freedom of Speech and ignore evidence that was so conclusive that we won in the UK. I'm sad I lost this case. But I am sadder still that I seem to have lost a right I thought I had as an American -- to speak freely and openly."
The decision was handed down to Judge Penney Azcarate on Wednesday. Closing arguments in the case were presented in court on Friday, and the jury began deliberating Friday afternoon.
The jury continued their deliberations Tuesday and Wednesday; it was announced that a verdict had been reached before 2 p.m. ET Wednesday. The reading of the verdict was delayed when Azcarate sent the jury back to properly complete the forms for compensatory damages.
Heard, 36, was present in court to hear the jury's verdict read while Depp, 58, was not. A source close to Depp told ABC News he was not present "due to previously scheduled work commitments made before the trial" and that he was "watching from the United Kingdom."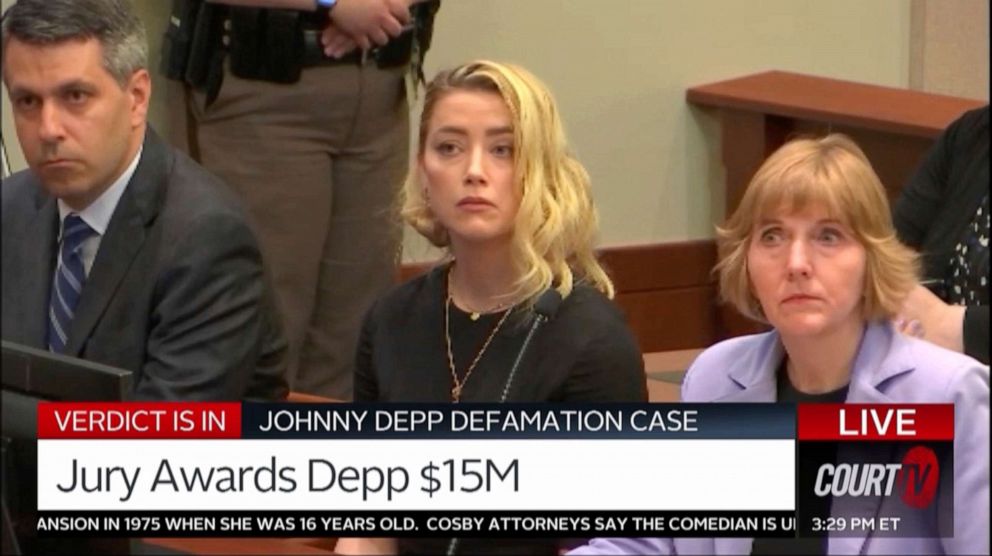 A spokesperson for Heard shared the following statement with ABC News: "Your presence shows where your priorities are. Johnny Depp plays guitar in the UK while Amber Heard waits for a verdict in Virginia. Depp is taking his snickering and lack of seriousness on tour."
Depp sued Heard for $50 million over a 2018 op-ed she wrote for The Washington Post in December 2018. In the piece, the "Aquaman" actress wrote about surviving domestic abuse without identifying her alleged abuser by name. In response to his lawsuit, Heard filed a $100 million countersuit against Depp.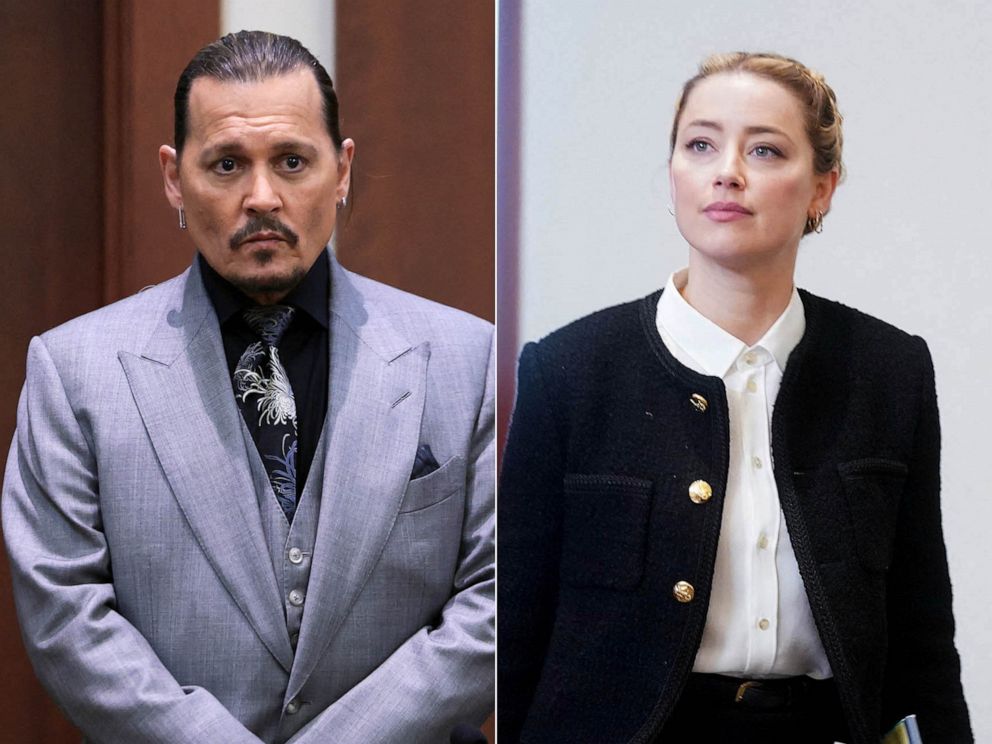 The couple met while filming "The Rum Diary," released in 2011, and they were married from 2015 to 2017.
Depp and Heard lobbed abuse claims at each other during their respective testimonies over the course of the weekslong trial. Both deny each other's claims of abuse.
During Depp's testimony, the "Pirates of the Caribbean" actor alleged he is the victim of domestic violence, not Heard. While on the stand, Heard admitted to being physically violent with Depp but claimed she always acted in self-defense. Heard alleged that Depp physically abused her countless times during their years together, which he denied.