When Janet Jackson received Billboard Music Awards' highest honor onstage Sunday night, it marked the first time the singer had performed live on TV in nine years. Nine whole years.
Even with a new album, "Unbreakable," and a world tour that included stops in far-flung cities like Tallinn, Finland, and Kaunas, Lithuania, Jackson hadn't appeared on live television back at home.
It's easy to understand why.
Jackson's legacy of live television performances was marred by just one performance, which she repeatedly called an "accident." The fallout from her 2004 Super Bowl halftime performance was "truly embarrassing," she told USA Today that year, and she wouldn't take the stage until four years later.
The "Miss You Much" singer's triumphant return to live TV Sunday night marked a turning point in Jackson's career -- one that doesn't focus on her mistakes, but instead focuses on her faith.
Even Jackson pointed to how her faith has brought her through the sometimes sharp pains of public opinion.
"Our public discourse is loud and harsh. My prayer is that weary of such noise, we will turn back to the source of all calmness, that source is God," she said while accepting the ICON Award.
"Everything we lack, God has in abundance: compassion, sensitivity, patience and boundless love. Again I want to thank all of you for this honor and I thank God for giving me the precious energy that lets me live my life as an artist who every day seeks to expand my capacity to love," she concluded.
After being introduced by Bruno Mars, Jackson performed just two of her hits -- 1986's "Nasty," and her 1993 song, "Throb."
The youngest of the famous Jackson clan didn't leave behind her sexy, making her way across the long stage inside Las Vegas' MGM Garden Grand Arena, wearing a long-sleeved gold sweatshirt, paired with garter belt-inspired boots.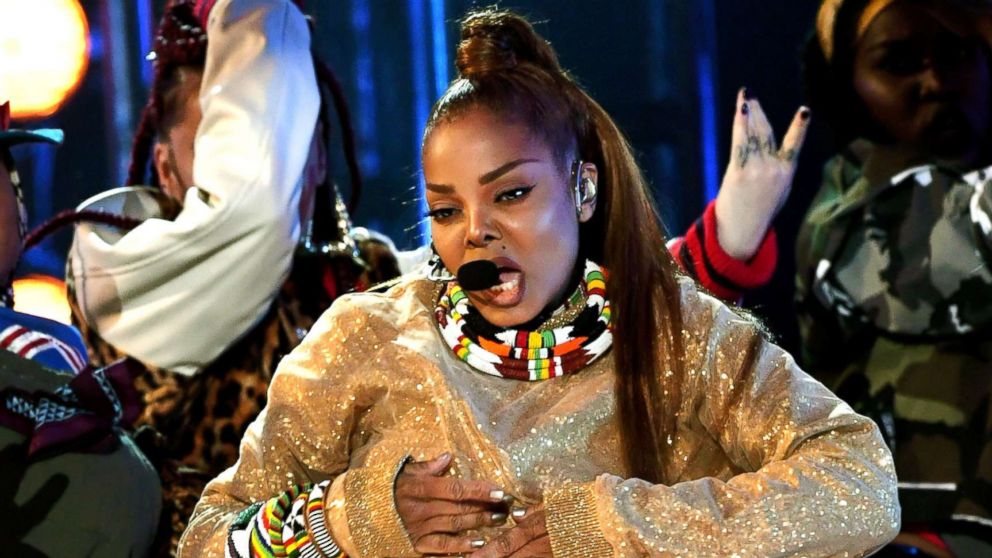 Celebrities like Tyra Banks, Chrissy Metz, Andy Cohen and Ciara sang and danced along during the five-minute set.
Although Jackson hasn't marked her albums with live performances like many artists of our time, she's spent her time cultivating other avenues of her artistry. In 2010, she reprised her role in Tyler Perry's "Why Did I Get Married Too?" and starred in the director's film adaptation of Ntozake Shange's 1975 play "For Colored Girls Who Have Considered Suicide When the Rainbow Is Enuf." Jackson even authored The New York Times bestselling book, "True You: A Journey to Finding and Loving Yourself" the following year.
It would take the sudden death of her brother Michael Jackson at age 50 to bring Jackson back to the stage. She honored him at the MTV Video Music Awards in 2009 by performing a dance tribute to the King of Pop's greatest hits, including "Bad, "Smooth Criminal" and their hit duet "Scream."
MTV told the New York Daily News that it took a lot of convincing to get Jackson on board with the performance. But the music network felt that "there was no one better than Janet to anchor" a tribute performance.
That performance gave Jackson the confidence to perform a medley of her hits at the American Music Awards two months later.
Jackson's live performance of "Control," "What Have You Done for Me Lately," and "Miss You Much" almost made fans forget about her botched 2004 Super Bowl halftime performance with Justin Timberlake.
On Feb. 1, 2004, Jackson, then 38, appeared on America's biggest stage to perform "All for You," "Rhythm Nation" and briefly "The Knowledge" from the iconic album, "Rhythm Nation." She was also joined by Kid Rock and Nelly before inviting Timberlake, then 23 years old, onstage to surprise fans and perform a duet version of his hit, "Rock Your Body."
It didn't shock Jackson fans that she would tap Timberlake to join her. The former 'NSync frontman often boasted of being inspired by Jackson when he attended her Rhythm Nation Tour as a child. The two had built a sort of friendship of mutual admiration, especially after Jackson invited 'NSync to be the opening act on her Velvet Rope World Tour.
But their relationship would never be the same after Timberlake ripped off a piece of Jackson's Alexander McQueen dress during their halftime performance, not only revealing her right breast but her star-shaped nipple ring.
To say the incident blew up her career would be an understatement.
Jackson's music was subsequently banned from all TV channels and radio stations owned by Clear Channel Communications, which also owned Viacom, the parent company of CBS, which aired the big game that year. The result was that her 2004 album, "Damita Jo," became her lowest-selling album since 1984.
She became the most searched term on Google in history that year, even landing her a place in the Guinness Book of World Records. She also helped inspire the idea for YouTube, according to founder Jawed Karim, who admitted that he got the idea for the video-sharing platform when he couldn't find the iconic performance clip online.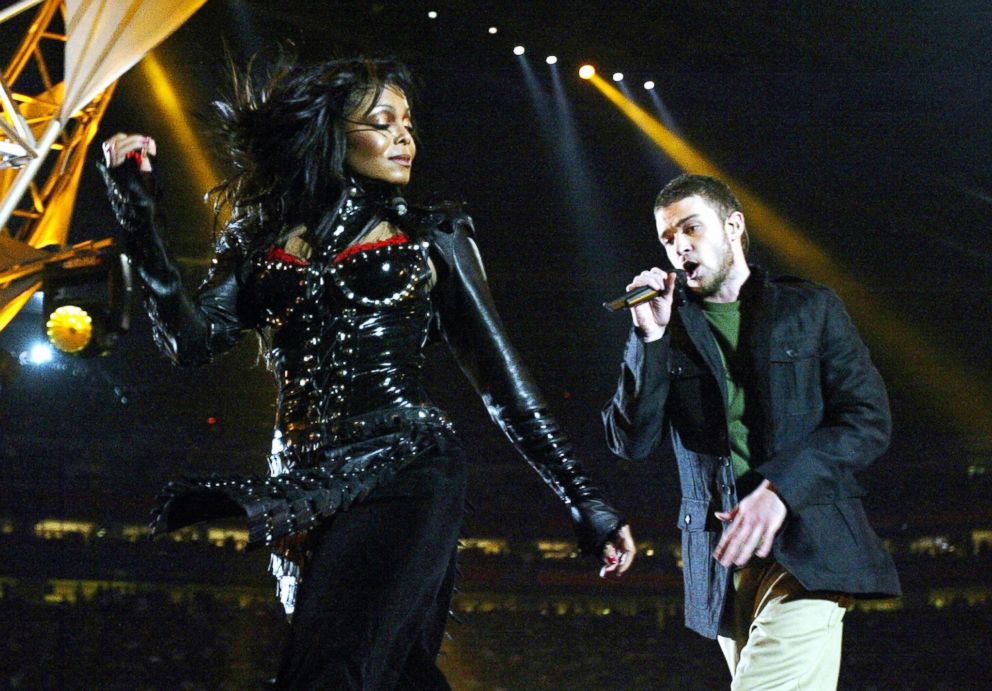 Jackson was also forced out of a movie deal that she had just secured.
Despite several apologies -- including one where MTV, CBS and the NFL demanded that she release a video apology noting that she had changed her performance at the last minute -- the FCC still took CBS and Viacom to court. The case went all the way to the Supreme Court (FCC v. CBS Corp.), in which the FCC demanded a $550,000 fine for violating decency laws during a live televised program.
Michael Powell, president of the FCC at the time, called Jackson's performance "a new low."
Although the NFL denied ever banning Jackson from performing again during the Super Bowl, she was indeed banned from performing at the Grammys the same year the incident happened. Timberlake, however, could attend.
He was also invited back to perform at the Super Bowl this year, but had to promise "the wardrobe thing won't happen" again.
But Jackson fans wouldn't let him forget about what happened that fateful day in 2004, declaring Super Bowl Sunday #JanetJacksonAppreciationDay on social media. It quickly trended with Spotify even writing on Twitter that the singer "influenced a generation."
On a different Sunday, Jackson reminded fans why they've been longing to see the creator of Rhythm Nation onstage. When she asked the crowd, "Get the point?" she answered for them, saying: "Good. Let's dance!"