In just the last few years, Panama City has won renewed recognition from American travelers. Easy access to the Panama Canal, easily one of the great wonders of the modern world, helps. But the way history melds with a cosmopolitan vibe has many modern-day explorers flocking to the city's vibrant streets and sprawling shores. If you're planning your first trip to Panama's capital city, here are a few things not to miss.
Do the stopover
Copa Airlines, the flag carrier of Panama, makes it easy for flyers to get a quick taste of Panama City with its Panama Stopover. Traveling from L.A. to Santiago? Spend a few nights in Panama City for free – just long enough to want to return for a longer visit soon. You can request a layover either coming or going, but you do have to confirm your itinerary with Copa reservations before you book your ticket. Copa flies to a slew of South American and Caribbean destinations from 13 U.S. gateways, including New York City, Las Vegas, Miami, Denver and San Francisco.
Don't skip the coastsPanama City offers easy access to two oceans, and they're just about an hour's drive away. "You can enjoy breakfast on the Pacific and afternoon drinks on the Caribbean," says Warren Ho, a Miami-based Travelzoo business development manager who grew up in Panama. The Caribbean stretch will feel more humid, with tropical flora and fauna and black-sand beaches, compliments of the dormant Volcan Baru; the Pacific side will be drier, with white-sand beaches, "like a typical California beach," says Ho. "And since you're on two coasts, be sure to enjoy the seafood," he adds. "For the price of popcorn shrimp in the U.S., you can get delicious giant langoustines!"
Don't skip the soup ...
During his second stint as a Panama City resident from 2009 through 2014, Warren Ho blogged actively about his city's slow food movement. When it comes to identifying classic regional cuisine, "Panamanians grapple with that question a lot," he says. "Just like Jamaican and Peruvian cuisines, food in Panama is a product of so many influences. It's hard to pin point a specific tradition. People are as proud of eating dim sum, a Chinese influence, as they are about their Spanish cuisine traditions." But if there's one thing visitors should not miss, it's sancocho, a simple but hearty soup made with just a handful of ingredients, including chicken, yams, garlic and cilantro. "Straightforward, but real comfort food," says Ho. "And it's great after a night of too much partying – a great hangover cure!"
... or the pineapple
"If it's in season, try the pineapple," insists Ho. Panamanian soil grows a hybrid of Hawaiian pineapple that's so sweet, "you'll think someone put sugar on it!"
Skip the gym, walk the waterfrontBurn off some of those vacation calories outdoors, along the Cinta Costera, a sweeping stretch of waterfront that runs from Paitilla to Casco Viejo. This is an ideal spot for a sunset jog, and you'll find free workout equipment and several basketball and tennis courts, too. You can also get the heart pumping by renting a bike and pedaling along the Causeway Amador.
Skip downtown, head to old town
For a real snapshot of Panama City life, head to its various neighborhoods. Casco Viejo, Panama's "old town," may be the most popular, for its eclectic and colorful vibe. This zone in the city's southwestern tip smacks of Old San Juan, Havana, or Cartagena. And it's small – just a few blocks. But the diversity of sights and places to visit will keep you here all day. "The hottest restaurant is a 24-seat place called Donde Jose," says Warren Ho. "It's about eight courses for $60, which is exorbitant for Panamanians, but its menu is worth every cent. It's personally explained by Jose Carles, who's a disciple of Ben Shewry – he worked for Chef Shewry at Attica in Melbourne." The multiple dining concepts at American Trade Hotel are buzzy, too: The Dining Room features farm-to-table nouveau Panamanian cuisines, Danilo's offers intimate jazz shows and Café Unido serves up a variety of coffees, including Geisha, the most expensive coffee-per-gram in the world. A few blocks away, nab gelato at Granclement, which features seasonal flavors like mango, lavender and basil. Shop for souvenirs at Karavan, where crafts are inspired by indigenous traditions. And "make sure to score a Panama hat while you're there," insists Ho. "They range from $40-$85 and the best ones are made in Ecuador. I prefer the ones from Montecristi – they can be rolled up and packed, and if unrolled in less than 24 hours they retain their shape! They can cost close to $1,000 at department stores in France."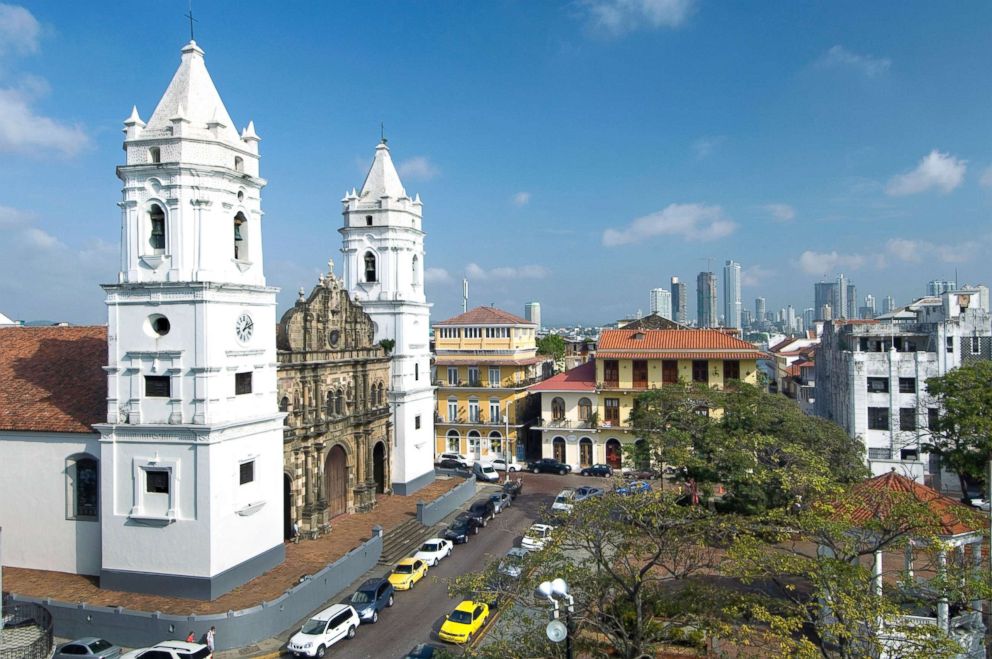 Other 'hoods to visit include the Zona Bancaria, where local bankers and lawyers regularly descend for after-work drinks, and San Francisco, where actors and politicians often gather to discuss current events (and where the restaurant, Los Años Locos, serves up some pretty awesome steaks).
Skip the cab, use rideshare
"Uber works in Panama City, and it's safer than any of the taxis," says Warren Ho. "Cabs aren't bad, but they always try to rip off tourists and may allow other people to ride in the taxi with you. Don't bother taking public transportation, either – it's complicated and uncomfortable. And driving can be an extreme sport, so unless you're a practiced driver in the developing world, rely on Uber."
Skip the cruise, visit the canal
It's definitely touristy, but a visit to the Panama Canal is one of those no-brainer, bucket-list things-to-do when you're in Panama City. There are three locks where you can see the canal action live – cruise and cargo ships from all over the world waiting to traverse from one side of the Americas to the other – but its proximity to downtown Panama City, about a 15-minute drive, makes Miraflores the most popular. The visitor center there is family-friendly and interactive, with everything from historic exhibits and 3-D educational films to simulators of its ingenious networks of locks. There are several observation decks, too, though the best panoramic eye-level views of passing vessels will be from the Atlantic & Pacific Co. Restaurant on the fourth floor; great food, though it's usually packed when the buffet lunch is served, so go early. The Gatun locks, about an hour away from Panama City, are less crowded and features a new observation center.
Skip the rain, shop the mall"On a rainy day, it's good to be indoors at a place like Multiplaza Pacific Mall," Warren Ho suggests. This is a shopper's delight, with a bevy of European shops that have yet to make it to the U.S., like Zara Home, Massimo Dutti, Adolfo Dominguez, Onda de Mar and Purificacion Garcia. "There's also a movie theater with VIP seating," adds Ho, "and a Sanborn's, with real Mexican food! This place is owned by Carlos Slim, one of the world's richest men."
Skip the jungle, visit the museum
As a land bridge that connects two giant and diverse ecosystems, it makes sense that Panama City would be home to the Biomuseo. Designed by famed American architect Frank Gehry – his first design in Latin America – this cultural hot spot is a tip of the hat to Panama's own awe-inspiring history and biodiversity, including the plethora of flora and fauna that have had to mutate over time to live, in essence, in two different worlds. "You can run through it in less than 40 minutes, either on your own or with a guided tour," says Ho, who used to volunteer there. "There are also several spots specifically for selfies." Biomuseo is open every day except Monday.
Escape for the night
You've come this far, so why not expand your Panama experience by tacking on one or two nights nearby? "Spend a night or two at the JW Marriott in Buenaventura, two hours away from Panama City," suggests Warren Ho. "This is the enclave of Panama's elite, and it's interesting to have access to their world. In most countries they would have huge walls and live-in compounds, but here they're quite overt about how fabulous they are: golf carts, stables, lagoons, sumptuous gardens and Mediterranean mansions by the sea." Prefer an island getaway? Head to Contadora Island – the ferry departs from the Trump International Hotel. Part of the Pearl Island archipelago, it retains an unspoiled natural charm (only 250 people live here full time) and has drawn many illustrious tenants, including Christian Dior and the deposed shah of Iran. Want a mountain escape, instead? A 45-minute flight west from Panama City, or an eight-hour bus ride, takes you to Boquete, near the Costa Rican border. "Almost everything that is consumed in, or exported from, Panama is grown and harvested here, from the coffee and fruit to the beef and trout," says Ho, who likes dining at The Rock (they do all-you-can-eat baby back ribs on Thursdays and specialize in artisan beers). His preferred place to stay is Valle Escondido, "a private community at the foot of a mountain with a babbling brook, tennis, golf, restaurant, spa, and an enclosed pool and bar. It's the perfect place for rest and relaxation."
Gabe Saglie is Senior Editor for Travelzoo, which features exclusive deals to and in Panama City. Got your own favorite Panama City experience? Let him know on Twitter or Instagram: @gabesaglie.