Nearly one out of every eight couples in the U.S. are affected by infertility. For National Infertility Awareness Week, "GMA" is spotlighting infertility stories to help demystify and destigmatize all paths to parenthood.
Amanda Lesesne is a director at Progyny, a company that works with other companies to offer fertility benefits for employees. She is also a woman who has been on her own journey trying to get pregnant for the past six years.
Our story starts like many others. My husband, Troy, and I always dreamed of having a family together, even when we first started dating. We thought the way most people thought: if you have sex, you'll get pregnant.
After a year of negative pregnancy tests, we knew it was time to go to our first fertility clinic. Our diagnosis of unexplained infertility was a bit jarring, but we ultimately accepted that path and decided this was what we needed to do in order to achieve our dreams.
Fast forward four years later to $50,000 drained, four rounds of failed IVF cycles, multiple miscarriages -- including one on Mother's Day while I was traveling for work -- and you found us grappling with, "What do we do next?"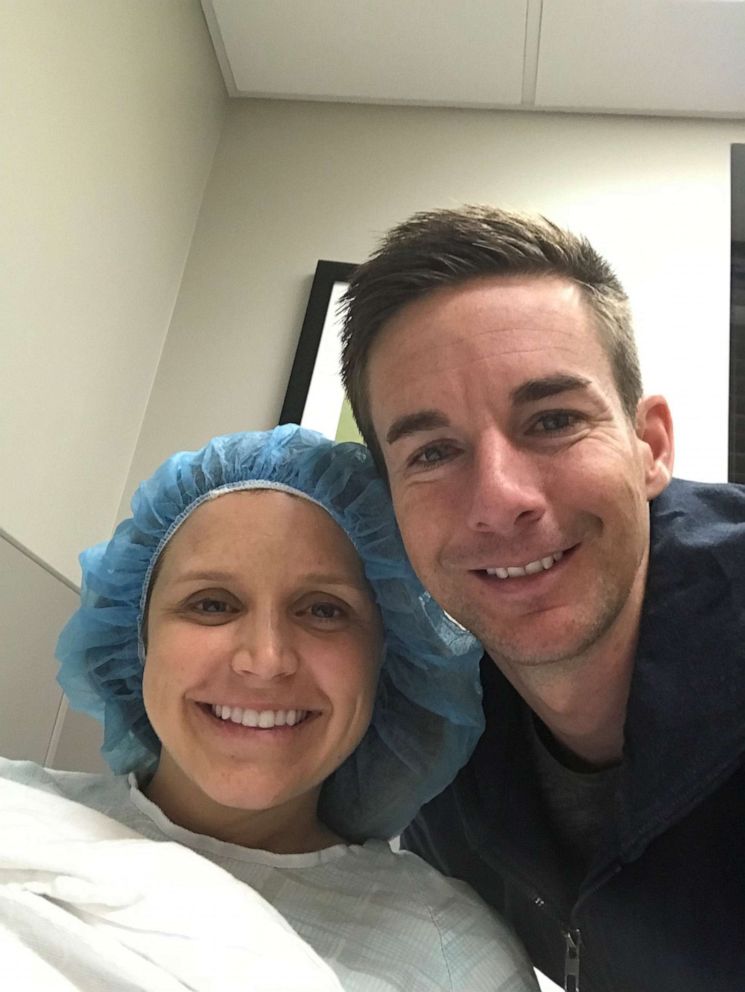 We applied for and received a $10,000 grant and used the new funds to pay for another round of IVF with donor eggs. That failed, too.
Why? Because during this entire journey I had stage III endometriosis, a condition that impacts one in 10 women, and no one realized because it's so hard to diagnose.
So, after a laparoscopy, we decided we should try again, but this time we had coverage through Progyny's fertility benefits. We moved forward with our fifth egg retrieval, but it was yet another failed cycle.
Honestly, we're still processing this piece of the journey and deciding where to go next.
Fertility journeys seem to be a never-ending path of decision making with no clear-cut path to success. Sometimes, I think this is what makes it so difficult: there is no guidebook and you always feel challenged in your decision making.
If you're about to start treatment or in the midst of it but unsure if you have a benefit, here are a few questions you, or your partner, need to ask your human resources (HR) or benefits department.
1. What is exactly covered under my benefit? Is there a dollar maximum or cap amount?
Infertility isn't a "one size fits all" type of disease, which means conventional insurance companies usually fall short in providing comprehensive coverage.
Most coverage includes pre-certifications before you can access the benefit. This means you need to prove you've tried to conceive for a year if you're under 35 years old or six months if you're over 36. This barrier automatically restricts the LGBTQ+ community and single parents by choice.
The other thing to factor is if there is a dollar maximum or a cap. If you have a $15,000 lifetime maximum, at first this might seem like a generous amount. If you peel back the layers and start punching the numbers, though, the $15,000 can be drained during diagnostic testing, and most people will move toward less expensive treatment such as IUI (intrauterine insemination). While IUI may be less invasive and less expensive, the treatment itself is also less effective.
On average, a woman under 35 will have a 10 to 20% success rate while a woman over 40 will have 2 to 5% chance. There's also a higher risk of multiples, which can endanger the mom-to-be and babies. In addition, it's more likely those twins or triplets are born premature and in the NICU.
It's so important to get all the details about your fertility coverage before you start. You should be making decisions based on what's best for you and not based on cost.
2. What support do I have if I access my benefit?
Sometimes going through infertility and managing the process can feel like a full-time job where you need to wear multiple hats. But you don't need to manage this alone.
If you do not have a patient advocate through your insurance company look for support groups from RESOLVE, the national infertility organization, or ask your employer for resources. It's important to treat your mind as you treat your body during this journey.
3. Does the benefit cover genetic testing or fertility medication?
It's important that your fertility benefit includes genetic testing so it can give you the option to use the latest technologies to test the normalcy of your embryos.
Due to the high cost of IVF, sometimes patients feel pressured to transfer multiple embryos versus transferring the most viable embryo. Most people will forgo genetic testing because of cost, which is why it's important to find a fertility benefit that includes it.
Another key component that is often overlooked when people talk about costs is fertility medication. Fertility medication can be expensive -- about $5,000 to $8,000 per IVF round -- and it can be daunting on how to self-administer these drugs.
If your fertility benefit does include medication, the follow-up question should be, "Does it include access to a pharmacy clinician or video tutorials?" Any support or guidance on this is extremely helpful and needed. As someone who's now a "pro" at fertility shots, it would've been helpful to have someone guide me in the beginning.
4. Is there a large number of in-network fertility clinics?
Just because a company offers a fertility benefit doesn't mean it will be accepted at the clinic of your choice. When going through treatment, it's important to choose a provider in your geographic area as you'll be expected to come in every other morning for routine monitoring.
Another factor in picking your provider is their area of expertise. Perhaps you're a same-sex couple -- an LGBTQ friendly clinic would make more sense for you.
Once you've selected a provider, be sure to check it's in your network. Be sure to do your research before selecting a provider so as to get the most out of your benefit and not rack up extraneous out-of-pocket costs.
To find a clinic with the best success rates check out the Centers for Disease Control and Prevention (CDC).
5. I don't have a fertility benefit. How do I talk to HR about getting one?
The most important thing to remember when it comes to your health generally is that you are always your best advocate. While many companies are starting to enact robust family building benefits into their insurance plans, their best resources in finding out what you need comes from you.
Talk to human resources. A simple conversation -- which can start with an email -- can set things in motion and be that first step in getting the best possible care.
6. Do I disclose my fertility journey to my managers or to my colleagues?
I often think about how much information I should disclose at work. I'm lucky enough to work at a place where talking about family building, sperm and eggs is part of normal conversations, which allows me to be open and find additional support I didn't know I needed. But not everyone is in the same position.
It's important to ask yourself how much information you're willing to share. If you feel like you need to tell your manager or boss that you're going through fertility treatment in order to have time off or come late to work, know that you don't have to. If you don't feel comfortable, instead you can say it's a medical condition -- because infertility is one!
If your colleagues ask, where you were in the morning, you can simply say a doctor's appointment. Don't feel pressured to disclose information if you're not comfortable with it. Remember, once you tell you can't take it back.
The reality is, if you do share, the person you've told might already know someone who's going through fertility treatment.
Read more here about infertility, from self-care to treatment options to how to pay for it all.