Creamy White Beans with Sausage
Serve as an Entree or a Side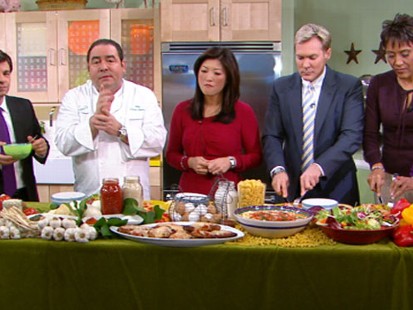 The chef prepares creamy white beans with sausage and pork chops.
From the kitchen of Emeril Lagasse
This hearty dish may be enjoyed as an entree or a side dish. If you serve it as a side dish, Emeril likes to serve it with crusty French bread or a simple, green salad.
Ingredients
3 tablespoons olive oil
1 tablespoon minced garlic
12 ounces hot smoked sausage, sliced into 1/2-inch-thick rounds
One 14.5-ounce can diced tomatoes, with juices
Five 15-ounce cans cannellini beans, rinsed and drained
1 tablespoon chopped fresh rosemary
1 teaspoon chopped fresh thyme
3 cups fresh spinach or arugula, rinsed and spun dry
Salt and freshly ground black pepper
Extra-virgin olive oil, for serving
Crusty French or peasant bread, warmed, for serving (optional)
Cooking Directions
Heat the oil in a large heavy Dutch oven over medium heat. Add the garlic and sauté until fragrant, about 30 seconds. Add the sausage and tomatoes. Increase the heat to medium-high
and simmer for 2 minutes. Add the beans and bring to a boil. Then reduce the heat to a simmer and cook until the beans are tender and flavorful, about 20 minutes.
Remove the pot from the heat and stir in the rosemary, thyme, and spinach. Season with salt and pepper to taste, and serve hot in wide shallow bowls, drizzled with extra-virgin olive oil. Pass the French bread, if desired.
2 quarts, 4 to 6 servings
Recipe courtesy Emeril Lagasse, "Emeril 20-40-60, Fresh Food Fast," HarperStudio Publisher, New York, 2009, courtesy MSLO Inc.
Prep time: 5 minutes Cook time: 25 minutes Total: 30 minutes
Food Styled by Karen Pickus
Recipe Summary
Main Ingredients: sausage, beans, olive oil, garlic
Course: Dinner, Main Course, Lunch, Side Dish