Rocco's Low-Cal Chocolate Chip Cookies
All the Taste, Fewer Calories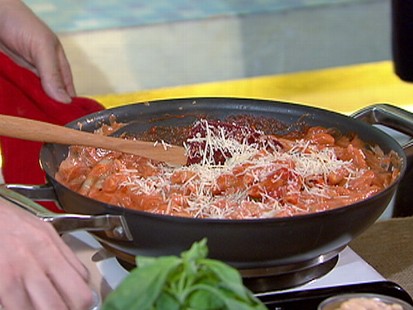 Chef Rocco DiSpirito whips up some comfort foods under 350 calories.
From the kitchen of Rocco DiSpirito
"This recipe took almost three weeks of trial and error before I perfected it. But the fantastic result was well worth the aggravation! With three kinds of chocolate for flavor – cocoa powder, cacao nibs, and chocolate chips – you won't miss the fat and sugar in the standard version of this most beloved cookie. Pour a glass of (skim) milk and get happy."
-Rocco DiSpirito, "Now Eat This!"
Ingredients
Nonstick cooking spray
1/2 teaspoon vanilla extract
1/3 cup unsweetened cocoa powder, sifted
1 cup canned white cannellini beans, rinsed and drained
2 tablespoons light agave syrup
3 large egg whites
1 1/2 cups granulated Splenda
1/4 cup dark chocolate-covered cacao nibs
1/4 cup mini chocolate chips
Cooking Directions
Preheat the oven to 375°F. Line 2 baking sheets with parchment paper and spray lightly with cooking spray. Set aside.
In the bowl of a food processor, combine vanilla, cocoa, cannellini beans, and the agave syrup, and blend the mixture until smooth, about 3 minutes, scraping down the side of the bowl halfway through blending.
In the bowl of a mixer fitted with a whip attachment, beat the egg whites until they form soft peaks. Gradually beat in the Splenda. Continue to beat the whites until they are creamy and nearly stiff. Add one-third of the egg-white mixture to the cocoa-bean mixture in the food processor. Blend to combine, about 30 seconds. In 2 batches, fold the lightened cocoa mixture into the egg whites until they are almost fully combined. Add cacao nibs to the batter. Fold batter until cacao beans are evenly dispersed and cocoa mixture is completely incorporated.
Drop mounded spoonfuls of batter onto the prepared sheets. Spread butter out to form cookies about 2 1/2 inches in diameter. Sprinkle the chocolate chips on top of the cookies.
Bake for 20 minutes, rotating the pans one turn halfway through baking. Using a metal spatula, transfer cookies to wire racks to cool.
Makes 20 cookies.
NOW YOU CAN EAT THIS!
Before: 10g Fat, 210 Calories
After: 1.4g Fat, 45 Calories
Protein: 2g | Carbohydrates: 9g | Cholesterol: 0mg
Fiber: 2g | Sodium: 32mg
Recipe Summary
Main Ingredients: cocoa powder, white cannellini beans, agave, eggs, cacao nibs, mini chocolate chips
Course: Cookies, Dessert, Snack, Party Platter