Zesty Pasta Alfredo
Enjoy This Pasta Dish as an Entre or Side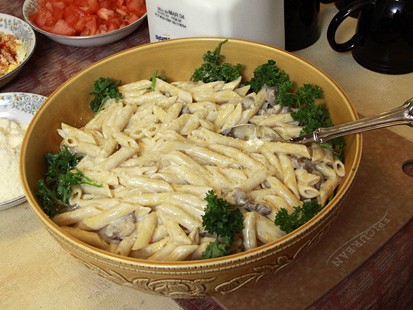 From the kitchen of Feasy Boys
Ingredients
1 cup butter
4 cups heavy cream
2 2/3 cups parmesan cheese, grated
1 cup monterey pepper jack cheese, cubed
1/3 colby cheese, cubed
32 oz dried pasta
1/2 lb mushrooms, sliced
1 yellow onion, chopped
1 tsp olive oil
salt, to taste
pepper, to taste
parsley, for garnish
grated parmesan, for garnish
Cooking Directions
Add approximately 1 gallon of water to a large pot and set on high heat. Add a pinch of salt and a squirt of olive oil to the water for flavor and to avoid pasta sticking together.
While the pasta water warms, melt butter over medium heat in a medium saucepan. Once butter has completely melted, add cream and bring to a boil, stirring constantly to avoid scorching. Once boil is achieved, reduce heat and continue to simmer for 4-5 minutes. Gradually add the freshly grated parmesan cheese and stir until smooth. Add mushrooms and onions. Set aside.
Once the water in the large pot begins to boil, add pasta and stir. You'll want the pasta to have an "al dente" consistency, so don't overcook it. Once pasta has reached desired doneness, remove from heat and drain in a large colander.
Combine cooked pasta with the alfredo sauce and mix thoroughly. Garnish with grated parmesan cheese and parsley before serving.
Recipe Summary
Main Ingredients: pasta, heavy cream, parmesan cheese
Course: Side Dish, Pasta, Main Course, Dinner