Pick and Mix Style Salad
Jamie Oliver Shares His Philosophy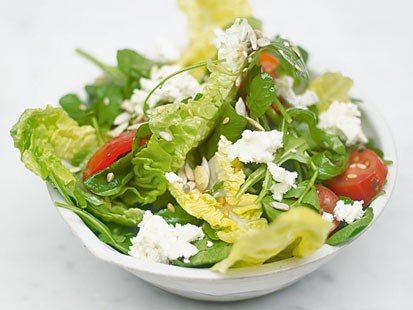 From the kitchen of Jamie Oliver
The idea of me presenting this salad to you is to give you the general philosophy behind creating a great, great salad so you can start making your own. When you go shopping and then go make the salad, pick and mix different elements like soft and crunchy lettuce, herbs, veggies, cheese and various toppings. Once you've done that, simply mix them together, season and then dress the salad. If you do this, the end results every time will be incredible. There are no rules, just start picking and mixing. Even using just 3 or 4 ingredients will give you a salad that rocks.
-Jamie Oliver
CLICK HERE to join Jamie Oliver's Food Revolution!
Ingredients
Soft
Butterhead lettuce
Oak leaf lettuce
Mache
Watercress
Crunchy
Romaine lettuce
Little gem lettuce (or hearts of romaine)
Belgian endive
Radicchio
Herby
Fresh mint
Fresh basil
Fresh Italian parsley
Fresh arugula
Veggies
Cucumber
Tomatoes
Carrots
Celery
Cheese
Parmesan
Mozzarella
Feta
Creamy blue cheese
Toppings
Mixed, toasted seeds
Toasted pine nuts
Rustic croutons
Pappadams (crumbled)
Cooking Directions
Choose and ingredient from each list. Wash and spin dry the soft, and crunchy leaves. Pick the herby leaves off their stalks. Finely slice or peel the veggies and shave, tear, or crumble up the cheese. Toss everything together in a large bowl. Dress simply with one of the jam jar dressings and season with a good pinch of salt and freshly ground black pepper if needed. Divide the salad between your serving bowls and sprinkle over your chosen topping.
For more information, including Jamie's Petition for Change, click here.
Recipe Summary
Main Ingredients: lettuce, carrots, tomatoes, mint, basil
Course: Dinner, Main Course, Side Dish, Salad