Lobster Spaghetti Alla Chitarra
From 'Chef's Table'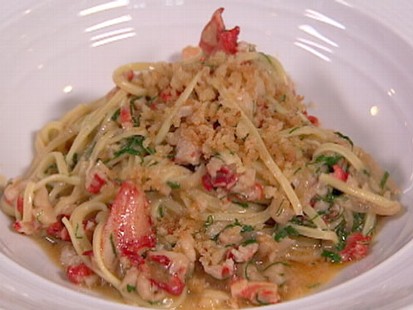 Bedford Post Chef Brian Lewis strums pasta into a mouthwatering delight.
From the kitchen of Brian Lewis
|
Ingredients
1 pound fresh or dried spaghetti
2 cups, cooked Maine lobster meat, cut into 1 inch pieces (dungenese crab is a good substitution)
12 each Santa Barbara sea urchin "tongues"
1 clove garlic, minced
2 shallots, minced
1 tbsp. extra virgin olive oil
2 tbsp. unsalted butter
1/2 tsp. Calabrian chili oil
1/2 cup lobster stock
1 fresh lemon, sliced in half
3 tbsp. Italian parsley leaves, chiffonade ( sliced thin )
Kosher salt, to taste
1 piece botarga di tonno (dried tuna roe)
Cooking Directions
Warm the extra virgin olive oil over low heat, add the shallots and garlic and cook until translucent, season with salt and add the lobster stock, bring to a simmer and cook over medium heat for 2-3 minutes.
Add the lobster meat, butter and sea urchin tongues, bring to a quick simmer and remove from the heat, add the fresh lemon juice, Italian parsley, Calabrian chili oil and stir to combine. Adjust the seasonings with kosher salt to taste.
Meanwhile, cook your dried or fresh spaghetti in well salted water (if fresh cook for only about 4 minutes.) Drain the spaghetti when done, reserving 1/4 cup of the cooking water.
Transfer the spaghetti to the sauce and toss all together, adding a few splashes of the pasta water to the pasta to add flavor and moisture, stir gently with a pasta fork.
Transfer to four individual serving bowls, forming a nest with the pasta and spooning the sauce over the top of the pasta.
Finish with a fine grating of the botarga di tonno.
Recipe Summary
Main Ingredients: lobster, butter, uni, tonna, shallots, oil, calabrian chilis, pasta
Course: Brunch, Vegetable, Dinner, Main Course
More Info: Kids Friendly
Other Recipes That You Might Like