Wild Nettle Risotto
From 'Chef's Table'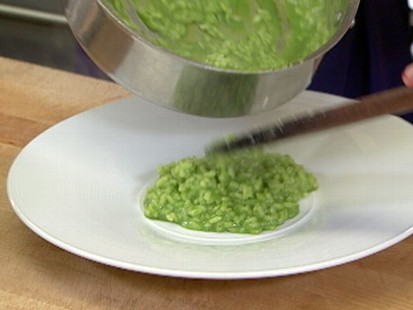 Bedford Post Chef Brian Lewis purees a sticky herb into a creamy rice.
From the kitchen of Brian Lewis
Ingredients
For the Risotto and Salata:
2 tbsp. extra virgin olive oil
4 tbsp. minced Spanish onion
1 cup carnaroli rice
1 cup dry white wine
4 cups chicken stock
Kosher salt, to taste
3 tbsp. unsalted butter
1/2 cup grated parmesan cheese
1/4 cup mascarpone cheese
1 small piece, ricotta salata, for shaving
12 pea shoots, to garnish
For the Wild Nettle Puree:
1 cup, packed wild nettle leaves (carefully picked with protective gloves to prevent being "stung")
1/2 cup picked Italian parsley leaves
2 shallots, peeled and sliced thin
2 cloves garlic, sliced thin
3 tbsp. extra virgin olive oil
Cooking Directions
For the Risotto & Salata:
Heat the olive oil in a heavy bottom saute pan over medium heat. Add the onions and season with salt, cook until soft and translucent, about 3-4 minutes.
Add the rice and stir together with the onions for 2 minutes, season with salt to taste.
Add the white wine and let simmer and absorb fully into the rice, not stirring at this point, for 3-4 minutes. Once the wine has been absorbed and the alcohol evaporated, the rice will begin to toast and take on a nutty aroma.
Begin to add the stock at this point, one cup at a time, stirring with a wooden spoon preferably. Stir constantly, allowing the rice to give off it's creamy starch and create a delicate creamy broth with the stock.
Continue to cook and stir the risotto until all of the stock has been absorbed by the rice. At this point, remove the pan from the heat and add the cold butter, stirring it into the rice quickly, allowing the butter to emulsify with the rice.
Finish the risotto by adding the parmesan, mascarpone and half cup of nettle puree, stir to combine for 2 minutes. Serve immediately in serving bowls and top with finely grated ricotta salata and a few pea shoots.
For the Wild Nettle Puree:
Place the extra virgin olive oil in a heavy bottom, medium sauce pan, over low heat.
Add the shallots and garlic, season with kosher salt and cook for 3-4 minutes, being carefull to not brown the shallots and garlic, then add the nettle and parsley leaves, season with salt nd cook over low heat for 3-4 minutes, until the leaves have wilted.
Transfer the nettle mixture to a food processor and puree to a smooth paste.
Set aside until ready to finish the risotto (also great added to scrambled eggs).
Recipe Summary
Main Ingredients: nettles, tonno, mascarpone, rice, risotto, chicken stock, butter, oil, pea shoots, salad greens.
Course: Brunch, Vegetable, Dinner, Main Course
More Info: Kid Friendly