Honey-Mustard Turkey Strips
Meals for Happy, Healthy Kids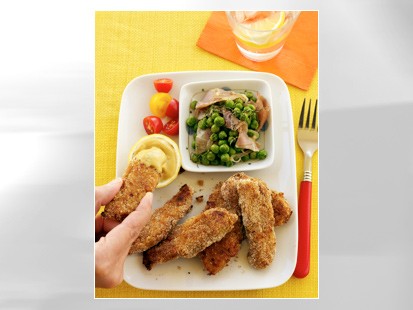 From the kitchen of Weight Watchers
Most commercially prepared chicken nuggets are full of added fat, whether you get them at the
drive-through or from the freezer section of your supermarket. This recipe makes nuggets with almost no added fat and uses turkey breast, which is generally moister and more flavorful than chicken breast. Mix a little extra honey-mustard for dipping if you like and serve it along with the strips.
Ingredients
1/4 cup Dijon or yellow mustard
2 tablespoons honey
1 1/2 teaspoons reduced-sodium soy sauce
3/4 cup plain dried bread crumbs
1 pound boneless skinless turkey breast, cut into strips
Cooking Directions
Preheat the oven to 400ºF. Spray a baking sheet with nonstick spray.
Whisk the mustard, honey and soy sauce together in a small bowl. Place the bread crumbs on a plate. Dip the turkey strips into the honey-mustard mixture, then into the bread crumbs. Place on the baking sheet. Spray the turkey strips lightly with nonstick spray and bake, turning once, until cooked through, about 20 minutes.
Per serving (about 4 pieces): 169 Cal, 2 g Fat, 0 g Sat Fat, 0 g Trans Fat, 50 mg Chol, 451 mg Sod, 17 g Carb, 1 g Fib, 20 g Prot, 52 mg Calc.
Recipe Summary
Main Ingredients: mustard, honey, soy sauce, bread crumbs, turkey breast
Course: Dinner, Lunch, Party Platter, Snack
More Info: Kid Friendly, Low Fat