Eggplant Parmigiana
From 'Chef's Table'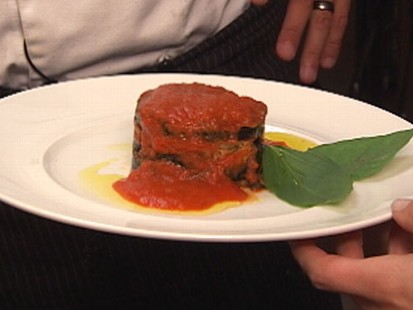 Quattro chef Nicola Carro prepares a hearty meal without meat.
From the kitchen of Nicola & Fabrizio Carro
Ingredients
For the Eggplant Parmigiana:
3 medium Eggplant, sliced into 1/2 inch-wide rounds
1 cup 00' flour, for dusting
Kosher salt, t.t.
1 1/2 Fresh Mozzarella, diced
1/2 Grana padano, diced
1/2 bunch Basil, leaves picked
4 cups Tomato Sauce
4 cups Canola Oil, for frying
6 4" Metal Ring molds
For the Tomato Sauce:
2 Spanish Onions, sliced
2 28 oz. Can Whole Peeled Tomatos
1 cup Fresh Basil, picked leaves
1/3 cup Extra Virgin Olive Oil
Salt & Pepper
Cooking Directions
For the Eggplant:
Lay sliced eggplant out in single layers on baking sheets lined with paper towel and season with salt. Allow the eggplant to release excess water for about 15 minutes.
Place the flour in a shallow dish and dredge the eggplant rounds with flour, shaking off excess.
Heat canola oil to 300 degrees over medium high heat in a large pot and fry eggplant in batches until very lightly brown and set aside to drain on a paper towel-lined tray.
For the Cheese:
In the food processor, combine the mozzarella and Grana padano and pulse until just combined.
Add the basil leaves and blend until fully incorporated. Adjust seasoning and transfer to a disposable pastry bag.
For the Tomato Sauce:
In a large pot, sweat onions in olive oil slowly over medium heat. When the onions are soft, add the canned tomatoes. Cook over low heat for about 2 1/2 hrs. careful not to let the sauce stick to the bottom of the pot, stirring occasionally.
Remove from heat and blend using an immersion blender, or a counter top blended in small batches being careful that the lid is tightly secured. While blending, add the basil leaves and adjust the seasoning with salt and pepper.
When the basil has been completely incorporated, the sauce is ready. Allow to cool and keep in the refrigerator.
For assembly:
In a large shallow baking dish, arrange ring molds and put a dollop of tomato sauce at the bottom of each ring mold.
Next, a layer of eggplant, then pipe a layer of the cheese, then a little more sauce, and finally another slice of eggplant.
Repeat the process until you have 4 layers or until you reach the top of the ring mold, ending with a slice of eggplant topped with tomato sauce.
Bake at 350F for 15mins, lift the ring molds out of the baking dish with a spatula and place on a plate. Carefully remove the ring mold and serve.
Recipe Summary
Main Ingredients: eggplant, fresh mozzarella, mozzarella, tomato sauce, tomatos, basil, evoo, spanish onions, basil
Course: Dinner, Main Course
More Info: Kid Friendly