Diane Henderiks' Roasted Red Pepper Hummus
Recipe Courtesy Diane Henderiks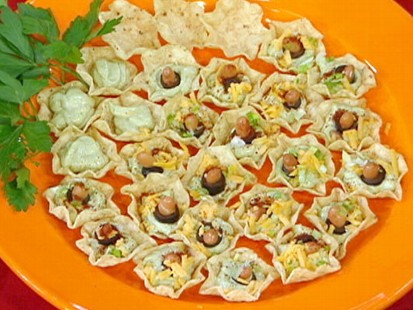 Portion controlled starter recipes for your holiday parties.
From the kitchen of Diane Henderiks
Ingredients
2 cups chick peas, cooked
1/4 cup tahini paste
Juice of 1 lemon
1 garlic clove, coarsely chopped
1/2 large red pepper, roasted
1/2 cup Kalamata olives, pitted & finely chopped
Salt & freshly ground black pepper to taste
Assorted fresh veggies, cut in bite sized pieces
Melba toast
Cooking Directions
Combine first 5 ingredients (chick peas through red pepper) in food processor or blender and mix until smooth.
Transfer hummus into a large bowl and stir in olives.
Season to taste with salt, pepper and additional lemon juice.
Spoon hummus into serving bowl and place on large serving plate.
Surround hummus with melba toast and fresh veggies.
Recipe Summary
Main Ingredients: chick peas, tahini paste, garlic
Course: Side Dish, Snack, Dip, Appetizer/Starter