Tosca Reno's Colorful Chicken Stir-Fry with Sweet Potatoes and Hoisin Sauce
Easy, Savory Stir-Fry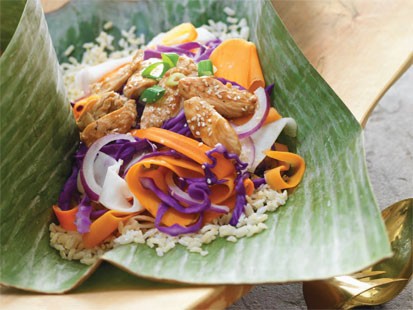 From the kitchen of Tosca Reno
At age 40 Tosca Reno was overweight and struggling in an unhappy marriage. Now a decade later, she's gone from unfit to a fitness guru and competitive bodybuilder who is helping others lose weight with her series of bestselling books, including her latest "The Eat-Clean Diet Recharged." CLICK HERE to visit her Web site.
Ingredients
2 tbsps. roasted sesame oil, divided
2 boneless, skinless chicken breasts, cut into 1/4-inch strips
2 sweet potatoes, peeled and cut into ribbons
1 large purple onion, peeled and cut into ribbons
1 turnip, peeled and cut into ribbons
1 carrot, peeled and cut into ribbons
1 tbsp. fresh ginger, minced
3 cloves of garlic, passed through a garlic press
4 to 5 cups of red cabbage, sliced
3 tbsps. of Hoisin sauce
4 tbsps. of sesame seeds, toasted
4 scallions, trimed and chopped on the diagonal
Cooking Directions
Heat 1 tbsp. of oil over a medium-high heat. Stir-fry the chicken until the strips are cooked.
If necessary, add more oil and sti-fry the potatoes, onion, turnip and carrot until tender crisp. Add ginger and garlic. Cook for two minutes more.
Add red cabbage and str-fry until soft, adding more oil if it's needed.
Add hoisoin sauce adn reduce the heat. Toss to coat.
Divide the mixture among four heated serving bowls. Garnish with sesame seeds and scallions.
Recipe Summary
Main Ingredients: chicken, sweet potatoes, hoisin sauce
Course: Dinner
More Info: Low Fat