Tosca Reno's Yogurt Cheese
Low-Fat Food Staple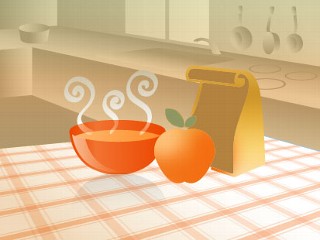 From the kitchen of Tosca Reno
|
At age 40 Tosca Reno was overweight and struggling in an unhappy marriage. Now a decade later, she's gone from unfit to a fitness guru and competitive bodybuilder who is helping others lose weight with her series of bestselling books, including her latest "The Eat-Clean Diet Recharged." CLICK HERE to visit her Web site.
No, this is not the high-fat, dense cheese you may be thinking about. This cheese is made with low-fat, plain yogurt. And boy does this cheese have legs! It can do a million things for your Clean-Eating cooking.
-Tosca Reno
Ingredients
2 quarts / 1.9 L low-fat plain yogurt, dairy or soy based
Cooking Directions
1. Place four layers of damp cheesecloth in a fine mesh
sieve or colander. Place the colander over a bowl.
2. Add yogurt and let it drain overnight in the refrigerator.
3. Discard the water from the bowl.
The result of the draining process will leave you with a soft, creamy cheese-like product in the sieve. It is lower in calories than cream cheese but can be used in its place. It is also lower in lactose, higher in protein,and lower in sodium than cream cheese. The best part
is that it is all natural.
You now have a wonderful base into which you can mix just about anything, since yogurt cheese readily takes on the flavors of whatever you choose to mixwith it. It is sinfully rich and makes you think you are eating something very naughty -- but you aren't.
Other Recipes That You Might Like