Pan-Roasted Chicken With Whole-Grain Mustard and Port
Wolfgang Puck's Delicious Dish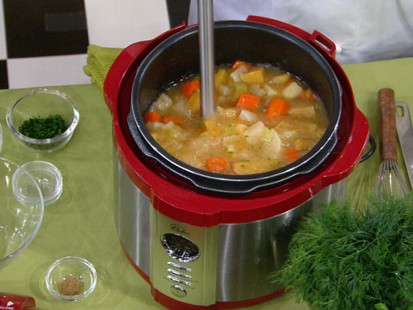 The chef prepares a root vegetable soup and an autumn salad.
From the kitchen of Wofgang Puck
Recipe courtesy Wolfgang Puck
Ingredients
1 whole organic frying chicken, about 4 pounds (2 kg)
3 tablespoons extra-virgin olive oil
1/2 cup (125 ml) port wine
1/2 cup (125 ml) store-bought organic chicken broth
1/3 cup (85 ml) heavy cream
1 tablespoon Dijon mustard
1 tablespoon Meaux (whole-grain) mustard
Salt
Freshly ground black pepper
2 tablespoons finely chopped fresh parsley leaves
2 tablespoons finely chopped fresh tarragon leaves
Cooking Directions
Preheat the oven to 400 degrees F. (200°C).
Meanwhile, butterfly the chicken. With poultry shears or a sharp knife, very carefully cut along the ribs on both sides of the backbone to remove it. Spread out the chicken, skin up, on a clean work surface and press down firmly with the heel of your hand to flatten the chicken.
Over high heat, preheat a heavy ovenproof skillet large enough to hold the flattened chicken. Add the olive oil and swirl it in the skillet. As soon as you begin to see slight wisps of smoke, carefully place the chicken skin side down in the skillet. Sear the chicken, undisturbed, while reducing the heat little by little to medium, until its skin has turned golden brown and crisp, 5 to 7 minutes. With tongs or a large fork, carefully turn the chicken skin side up.
Transfer the skillet to the oven and roast until the chicken is deep golden brown and the juices run clear when the thickest part of the thigh is pierced with a skewer, 10 to 15 minutes. When the chicken is done, transfer it to a carving board, and cover with aluminum foil to keep it warm.
Pour off all but a thin layer of fat from the skillet. Add the port, put the skillet over high heat, and boil until the port has reduced by half, about 5 minutes, stirring and scraping with a wooden spoon to deglaze the pan deposits. Add the broth and continue boiling until the liquid has reduced by half again, about 7 minutes.
Stir in the cream, bring the liquid back to a boil, and cook for about 3 minutes. Reduce the heat to low, stir in the Dijon and Meaux mustards, and adjust the seasonings to taste with salt and pepper.
With a heavy knife, cut the chicken into serving pieces. Return the chicken pieces to the skillet, spoon some of the sauce over them, and sprinkle with parsley and tarragon before serving.
Recipe Summary
Main Ingredients: chicken, port wine, chicken broth
Course: Dinner, Party Platter, Main Course