Chinois Chicken Salad
A Classic Wolfgang Puck Recipe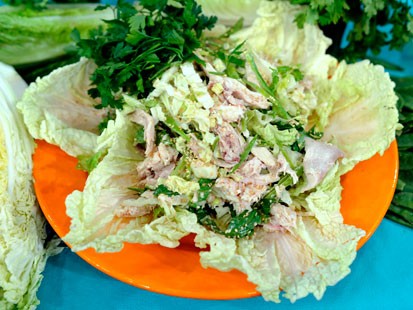 From the kitchen of Wofgang Puck
This salad has been one of our most popular dishes at Chinois since we opened. It makes a perfect lunch salad or an appetizer with dinner. The dressing is one of my favorites and you'll find it useful with any Asian-inspired dish.
-Wolfgang Puck
Recipe courtesy Wolfgang Puck
Ingredients
Chinese Mustard Vinaigrette:
4 teaspoons dry Chinese or English (Coleman's) mustard
1/2 cup rice wine vinegar
2 teaspoons soy sauce
4 tablespoons light (untoasted) sesame oil
4 tablespoons peanut oil
Salt
Freshly ground black pepper
Chicken Salad:
One 3 pound chicken, cavity filled with finely diced celery, carrot, onion, garlic, bay leaf, thyme, salt and pepper
8 tablespoons butter (one stick), melted
4 small heads, or 1 medium head Napa cabbage
2 cups romaine lettuce, cut into 1/4 inch julienne strips
20 snow peas, cut into 1/4 inch julienne strips
6 teaspoons sesame seeds, toasted
Cooking Directions
Prepare the vinaigrette. Place all the vinaigrette ingredients, except peanut oil, in a blender and blend until smooth. Add peanut oil slowly and correct the seasonings.
Preheat the oven to 425 degrees F.
Place the chicken on a rack in a roasting pan and baste it with some of the butter. Roast for about 1 1/2 hours, or until just done. (The juices should run clear.) Baste every 15 or 20 minutes with the butter and the drippings.
Select 4 to 8 nice looking leaves from the Napa cabbage and reserve them. Slice the remaining cabbage into 1/4 inch julienne strips.
Shred the meat from the breasts and thighs of the chicken.(Use the remaining meat and the carcass for chicken stock. See separate recipe.)
Combine the chicken, cabbage, romaine and snow peas in a bowl and toss with enough vinaigrette to coat the salad nicely.
Arrange the reserved Napa cabbage leaves around the edge of a large serving plate. Mound the salad in the center and sprinkle it with the sesame seeds.
Recipe Summary
Main Ingredients: chicken, cabbage, mustard, lettuce
Course: Dinner, Party Platter, Main Course, Side Dish, Salad, Lunch