Adam Perry Lang's Chicken Breast
This Is Not Your Average Chicken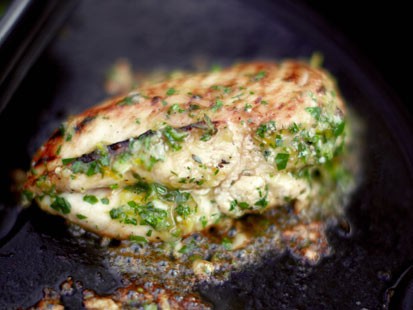 From the kitchen of Adam Perry Lang
Ingredients
6-8 9-oz. skinless, boneless chicken breasts
For brine/marinade
3 tbsp granulated sugar
3 tbsp sea salt or kosher salt
1 tsp paprika
1 tsp freshly ground pepper
2 tbsp grated or finely chopped red onion
1/2 tbsp chopped scallions
1 bunch fresh marjoram
1 bunch fresh thyme
2 tbsp white wine vinegar
Juice of 1 lemon
4 cups of cold water
For baste/glaze
3 tbsp unsalted butter
2 tbsp olive oil
1 tbsp honey
1 tbsp grated lemon zest
2 tbsp chopped scallions
1 bunch fresh thyme, leaves only
2 tbsp chopped fresh flat-leaf parsley
2 tbsp grated or finely chopped garlic
2 tbsp grated or finely chopped shallots or sweet white onion
Cooking Directions
Combine all the brine/marinade ingredients in a large bowl or resealable plastic bag. Mix and crush the ingredients with your hands, directly or through then bag, squeezing them to release the maximum flavor.
Put the chicken in the brine, transfer to the refrigerator, and brine for at least 1 hour, and up to 24 hours.
Preheat the BBQ to medium-gigh. Drain the chicken and dry with paper towels.
Glisten the breasts with canola oil.
Put a griddle on the grill, add the 1 tbsp butter, and let it melt. Add the chicken to the griddle, smooth side down, and cook, turning once or twice, for about 6 minutes to set the protein.
Meanwhile, combine the baste/glaze ingredients in a foil pan or heatproof pan, set it on the grill, and stir occasionally to melt the butter.
Continue, to cook, moving the chicken back and forth between the grill and the baste/glaze pan, turning to coat it, until the chicken is cooked through. It should register 160 degrees F on an instant-read thermometer.
Transfer to a platter or cutting board.
Bring the remaining baste/glaze to a boil, and pour over the chicken.
Approx 16 minutes
Recipe Summary
Main Ingredients: boneless chicken breasts, scallions, marjoram, white wine vinegar
Course: Lunch, Dinner