Grapefruit and Cherry Ambrosia
With Honey Cream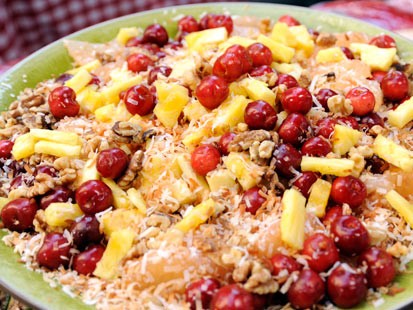 From the kitchen of Cat Cora
|
When I was growing up in Mississippi, ambrosia was brought to family reunions, picnics, graduation parties and potlucks. This version saves what was good in the original but uses fresh, juicy grapefruit segments and sweet, dark cherries in place of canned fruit. Because honey has so many subtle flavor notes, the cream that accompanies the ambrosia tastes much more complex than if it were sweetened with sugar.
Ingredients
1 cup grapefruit segments, membranes removed (2 grapefruits)
3 1/2 cups chopped fresh pineapple (1 medium)
1 cup pitted fresh Bing cherries or frozen, thawed
1 tablespoon fresh lemon juice
1/2 cup sweetened shredded coconut
1/4 cup coarsely chopped toasted walnuts
Honey cream
1 cup heavy cream
1/4 cup honey
1 teaspoon vanilla extract
Cooking Directions
In a medium bowl, mix the grapefruit segments, pineapple and cherries with the lemon juice; cover; and refrigerate for 1 hour.
Preheat the oven to 350°F and position a rack in the middle. Spread the coconut on a baking sheet and toast in the oven just until it begins to turn golden, 5 to 7 minutes; don't let it get too dark.
For the cream: With an electric mixer, beat the cream, honey and vanilla until it forms soft peaks, 1 to 2 minutes.
With a slotted spoon, divide the fruit among 6 to 8 dessert glasses or bowls, leaving behind most of the fruit juice. Top with the honey cream, toasted coconut and chopped walnuts and serve.
Cat's note: You can go with a light honey, such as clover, lavender honey, or a dark, more brooding one, like a full-bodied buckwheat honey.
*Courtesy of Cat Cora's "Classics With a Twist"
Other Recipes That You Might Like