Spike Mendelsohn's Prez Obama Burger
For the Commander in Chief in Your Home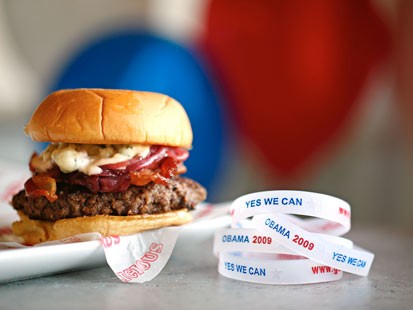 From the kitchen of Spike Mendelsohn
The 2008 presidential election happened the year I moved to D.C. Because I had a restaurant on Capitol Hill, how could I not do a McCain vs. Obama Burger! What I didn't realize is how seriously people would take this "Countdown to Election" burger challenge.
I think bipartisan couples were getting divorced in front of my cashiers, first-time dates were finding out way too much information and there were a few wacky but lovable Democrats coming in to order the Obama burger -- so it would count toward the vote -- but who wanted all the McCain ingredients.
Not only did Obama win in my burger competition by 4-1 (which I'm sure he was worried about) but he also won the big one -- 44th president of the United States.
So "Yes We Did" put it on the menu as the Prez Obama Burger. Here's what I thought a cool Chicago guy would like on his burger -- hopefully I'm right.
Ingredients
Horseradish mayonnaise (makes about 2 1/2 cups)
2 cups Homemade Basic Mayonnaise
4 ounces prepared horseradish
1 tablespoon cayenne
1 1/2 teaspoon freshly ground black pepper
Sea salt
Red onion marmalade
2 red onions
1 cup red wine vinegar
1 cup sugar
Burgers
30 ounces ground sirloin
6 potato buns, cut in half
Canola oil
1 pound applewood smoked bacon
Sea salt and freshly ground black pepper
1 pound crumbled blue cheese
Cooking Directions
Add the basic mayonnaise, horseradish, cayenne, pepper, and salt to taste to a food processor or blender. Puree until smooth. The mayonnaise can be refrigerated in an airtight container for up to 1 week.
Slice both red onions 1/2 inch thick. Add the vinegar and sugar to a pot over medium heat. Bring to a simmer. Once the sugar is completely dissolved, add the onions. Cook, stirring constantly to prevent burning, until the onions are translucent and the liquid is reduced by half, about 5 minutes. Set aside to cool.
Roll six 5-ounce sirloin balls and form each ball into a patty. Arrange on a tray, cover, and refrigerate.
Toast the buns and set aside.
Heat a large skillet over medium-high heat and just add enough oil to cover the entire bottom. Line a plate with paper towels. When the oil begins to smoke, add the bacon and cook until crisp. Remove with a slotted spoon. Drain on the paper towels. Drain the fat from the pan but do not wipe clean.
Reduce the heat to medium and place the patties into the skillet. Season the patties with salt and pepper and cook for 3 minutes. Flip, and cook on the other side for 1 minute more. Distribute the crumbled blue cheese equally among the patties and continue to cook 2 minutes more for medium-rare doneness. Cover with a lid for the last 30 seconds to melt the cheese.
To assemble the burgers, place 1 patty on 1 bun bottom. Top the patty with some mayonnaise, marmalade, and bacon. Cover with the bun top. Repeat with the remaining ingredients. Don't forget to wrap the sandwiches in wax paper. Let rest for 2 to 3 minutes and serve
Recipe Summary
Main Ingredients: horseradish, red wine vinegar, onions, ground sirloin, applewood smoked bacon
Course: Dinner, Lunch, Main Course