Spike Mendelsohn's Cherry-Apricot Jam Blondies
Inspired by a Cherry Blossom Tree in D.C.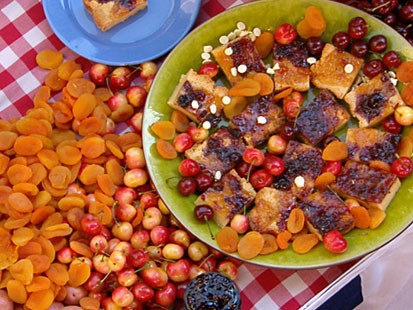 From the kitchen of Spike Mendelsohn
I have a cherry blossom tree, Fred, in front of my D.C. brownstone. I'm madly in love with Fred -- just thought I'd tell you that. He's old, beautiful and was the inspiration for these goodies.
Ingredients
1 1/2 cups all-purpose flour, plus more for the pan
1/2 cup sugar
6 ounces (12 tablespoons) cream cheese, at room temperature
1 teaspoon vanilla extract
1 large egg yolk
6 tablespoons (3/4 stick) unsalted butter, plus more for the pan
1 cup white chocolate chips, optional
1/3 cup cherry preserves
1/3 cup apricot preserves
Cooking Directions
Preheat the oven to 350°F. Butter and flour a 9-inch square baking pan.
In a bowl, beat together the flour, sugar, cream cheese, and vanilla with an electric mixer until smooth. Beat in the egg yolk to mix. Set aside.
Melt the butter and chocolate chips, if using, in a saucepan or in the microwave. Stir into the cream cheese mixture. Pour into the prepared pan.
Heat the cherry preserves in one saucepan and the apricot preserves in another over medium-high heat until they soften and thin. Drizzle the preserves over the batter with a spoon.
Bake for 30 to 35 minutes, or until the top is golden and a knife inserted in the center comes out clean. Let cool on a rack before slicing, and enjoy.
Makes 12
Recipe Summary
Main Ingredients: cherry preserves, apricot preserves, cream cheese, white chocolate chips
Course: Dessert, Snack