Lemon-Berry Parfait
Try This Recipe to 'Eat and Beat Diabetes'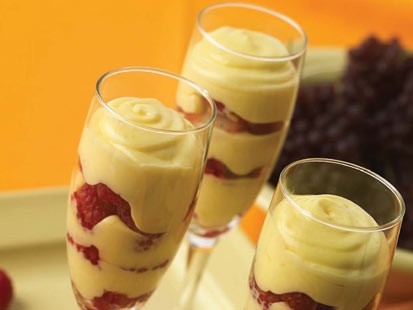 From the kitchen of Dr. Howard M. Shapiro
|
Living with diabetes often means focusing on what you can't eat. But what about the food you can?
Diabetics shouldn't have to live life staring longingly at the desert tray, deciding between a savory bite of cake and the risk of severe complications, according to authors Dr. Howard M. Shapiro and Franklin Becker.
Their new book, ""Eat & Beat Diabetes with Picture Perfect Weight Loss," offers recipes and tips to enjoy food and keep weight off.
Ingredients
1 package sugar-free instant lemon pudding
1 1/2 cups soy milk
2 tablespoons lemon juice
1/4 teaspoon grated lemon zest
1 1/2 cups sliced strawberries and/or raspberries
Cooking Directions
1. In a bowl, beat together pudding mix, soy milk and lemon juice, and zest until smooth.
2. Refrigerate for about 15 minutes to allow mixture to thicken slightly.
3. Divide pudding and berries evenly among 3 dessert dishes, alternating layers of pudding and berries.
Yield: 3 servings
105 calories per serving
Other Recipes That You Might Like