Grilled Chicken & Caramelized Onion Flatbread with Blue Cheese
Recipe Courtesy Devin Alexander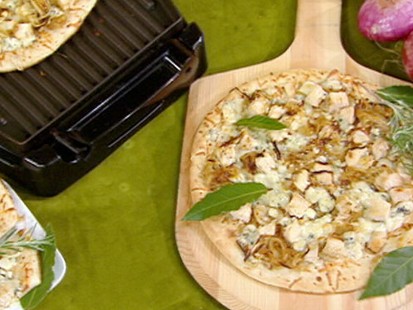 Low calories dishes perfect for quick party planning.
From the kitchen of Devin Alexander
|
When I was a child, we went to Chuck E. Cheese's for our birthdays. In addition to all of the cool games and the characters, I loved that they cut their pizzas into squares instead of wedges. Not only could you get more crust or less crust as you like (I'm a less-crust girl), I got to eat a number of pieces, since they're petite. Here, I've cut the flatbread into squares to distinguish it from other pizzas...and because it just feels more decadent.
If you're making this pizza on a charcoal grill, heat the coals until they are hot and covered with gray ash. Then place the pizza on the grill about 5 inches from the coals for best results. Cover and grill for 3 to 4 minutes.
Ingredients
1 10-ounce Boboli whole-wheat pizza crust
Olive oil spray (from a spray bottle, not a store-bought, prefilled one that contains propellant: I used Misto)
8 ounces lean store-bought grilled chicken breast, cut into 1/2-inch pieces
1 recipe Easier-Than-Caramelized Onions (recipe can be found here)
1 teaspoon dried rosemary
1 1/2 ounces (about 1/3 cup) reduced-fat blue cheese crumbles
Cooking Directions
Preheat a grill to medium heat. Lightly mist the bottom of the crust with spray. Place the crust on a metal pizza peel or cookie sheet without a lip.
Top the crust evenly with the chicken, then the onions, rosemary, and blue cheese.
Carefully slide the pizza onto the grill. Grill it until the cheese melts and the dough is crisped but not burned, 3 to 5 minutes. Carefully slide it back onto the peel or sheet (you may want to use tongs to drag it on) and let it stand 5 minutes. Slice the pizza into 16 squares and serve immediately.
NOTE: Nutrition information is based on 2 average-sliced slices; corner pieces are smaller.
Makes 8 servings. Each (2-piece) serving has 160 calories, 12g protein, 19g carbohydrates, 5g fat, 2g saturated fat, 19mg cholesterol, 3g fiber, 278mg sodium
Hands-on time: 5 minutes (onions must be made in advance)
Hands-off time: Time to preheat grill plus 3 to 5 minutes to grill plus 5 minutes to stand
Other Recipes That You Might Like