Flame-Grilled Chicken With Risotto
Red, White and Blue Cook-Off Recipe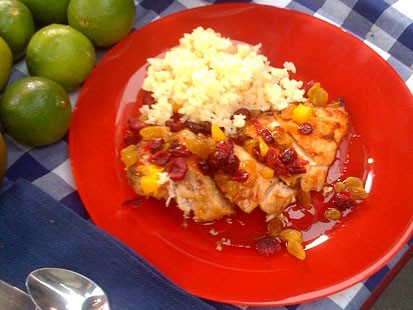 From the kitchen of Navy Culinary Specialist First Class Keith Combo
|
Try this recipe for grilled chicken with a side of risotto and a mango-salsa garnish from Keith Combo, who boasts an incredible 16 years of service. While on board the USS Philippieans Sea, Keith handles up to 450 pounds of meat a day. He says that his wife is actually the better cook!
Ingredients
5 Chicken Breasts
Ingredients for Dry Rub:
1oz Salt
1oz white pepper
1 oz garlic, minced
1 tsp crushed pepper
Paprika
3 tbsp olive oil
1/4 C. white wine
Ingredients for Risotto:
14 oz risotto
1 large onions small diced
4 oz olive oil
2 oz white wine
2 1/2 pints hot chicken stock
Finish with:
5 oz. Butter
1 1/2 cup fresh parmesan cheese, grated
Mango Salsa Garnish:
The following garnish is meant to be used on both the chicken and risotto side dish.
1/2 lb cranberries sundried
1/2 lb raisins sundried
1 lb mango, small dice
1 tsp ginger, minced
1 tsp lime juice
Salt to taste
2 C. brown sugar
1/4 C. butter
2/3 tsp soy sauce
2/3 cornstarch
1 C. cold water
Borage flower
Cooking Directions
1. Massage chicken breast in olive oil. Marinate with salt, white pepper, paprika, minced garlic, crushed pepper, white wine and hold until ready to grill.
2. Sauté diced onions in olive oil in a medium sauce pan until translucent; add risotto and white wine and a pinch of salt. Sauté about 1 minute and add hot chicken stock stirring continuously, Reduce heat and simmer for 10-15 minutes. Rice should be aldente' yet little creamy. Fold in butter and parmesan. Remove from heat.
3. In a small sauce pan under low to moderate heat add butter, brown sugar, soy sauce, ginger and 1 tsp of crushed pepper simmer and hold for last step. Thicken with cornstarch slurry if necessary. Reduce heat to low.
4. Prepare garnish. Combine raisins, cranberries, mango, with lime juice. Set Aside.
Grill chicken for approximately 5-7 minutes on each side (with cross grill marks).
Pour 1 oz of hot glaze over chicken breast.
Plate with chicken breast over risotto centered, garnish with mango salsa and borage flower.
Other Recipes That You Might Like