All-American Red, White and Blue Potato Hash
Red, White and Blue Cook-Off Recipe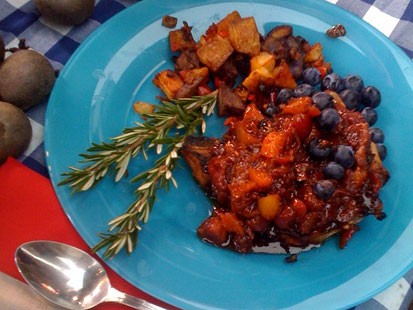 From the kitchen of Coast Guard Food Service Specialist Second Class Rob Runn
|
Rob Runn, a 6-year veteran, once catered to First Lady Michelle Obama during her recent visit to his ship, the U.S. Coast Guard Cutter Sturgeon Bay. And when he isn't cooking he actually drives the boat as a Master Helmsmen.
Ingredients
1 stick unsalted butter
1 c 1/2 in diced purple potatoes
1 c 1/2 in diced russet potatoes
1/2 c diced white onions
1/2 c diced red bell peppers
kosher salt, to taste
black pepper, to taste
Cooking Directions
On a flat top griddle, melt the stick of butter, once butter has melted add the onions and peppers and saute til the onions are just see through. Add potatoes, salt, and pepper to griddle and saute till potatoes start to brown.
Once the potatoes have turned a beautiful golden brown on one side, carefully flip them over so they can continue to cook and brown on the other side. Cook the hash until potatoes have turned a crispy golden brown and can mash easily between your thumb and finger. Season with salt and pepper to taste if needed.
Other Recipes That You Might Like