Guacamole
From 'Chef's Table'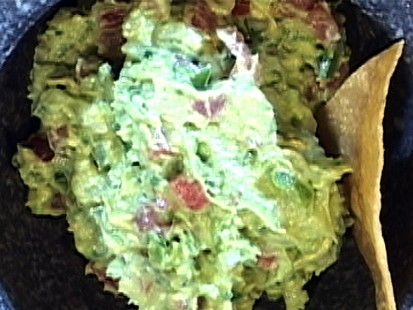 Serafina's Vittorio & Fabio mash seven ingredients.
From the kitchen of Fermin Ortega
|
Ingredients
For the Guacamole:
1 Ripe Avocado
1/4 tablespoon of lime juice
1/2 tablespoon of chopped cilantro
1 tablespoon chopped Vidalia onions
1 tablespoon chopped tomatoes
1/2 tablespoon of chopped jalapenos (more or less depending taste)
1/4 teaspoon of salt
Cooking Directions
You will need:
1 Mixing bowl
1 Wooden spoon
Directions:
Step One: Cut avocado in half and remove pit. Take remaining avocado and place in mixing bowl
Step Two: Mash avocado to preferred consistency
Step Three: Combine all ingredients and mix thoroughly with wooden spoon.
Step Four: Dish and serve.
Other Recipes That You Might Like