Emeril's Grilled Fish Tacos with a Roasted Chile and Avocado Salsa
A Healthy Treat That's Full of Flavor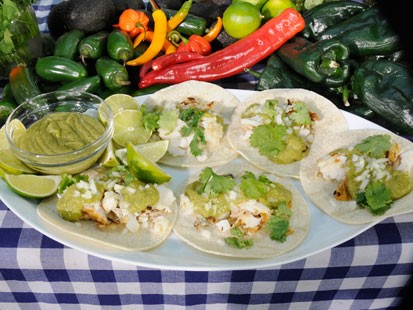 From the kitchen of Emeril Lagasse
Father's Day is just around the corner. Celebrity chef, TV host and author Emeril Lagasse offers this great meal for idea for Dad's special day.
Ingredients
1/2 Hass avocado, peeled, pit removed
2 poblano chiles, roasted, peeled, and seeded
1 jalapeno pepper, roasted, peeled, and seeded
1/4 cup plus 2 tablespoons olive oil
3/4 cup chopped onion
3/4 cup cilantro leaves
Juice of 1 lime
1 1/4 teaspoons kosher salt
3 tablespoons water
1 pound amberjack fillet
1/2 teaspoon freshly ground white pepper
8 fresh white or yellow corn tortillas, warmed according to package directions or grilled
briefly to heat through
4 slices ripe tomato, cut in half
2 limes, halved
Cooking Directions
In a blender, combine the avocado half with the roasted poblano and jalapeno chiles, the 1/4 cup olive oil, 1/4 cup of the chopped onion, 1/4 cup of the cilantro leaves, the lime juice, 1 /4 teaspoon of the kosher salt, and the water. Puree until smooth, and set aside.
Pre-heat your grill to medium, or pre-heat a cast-iron grill pan over medium heat.
Season the amberjack with the remaining 1 teaspoon kosher salt and the white pepper. Rub the remaining 2 tablespoons olive oil over both sides of the fish, and place the fish on the grill. Grill until the fish is just cooked through and flakes easily, about 4 minutes on each side. Remove the fish from the grill, and use a fork to break it into flakes or small chunks.
To assemble the tacos, divide the fish evenly among the tortillas. Place 1 tablespoon of the remaining chopped onion and 1 tablespoon of the remaining cilantro leaves over each portion of fish. Place a half tomato slice over each, and drizzle with some of the avocado salsa. Squeeze some lime juice over the tacos, fold the tortilla sides together, and serve immediately.
Recipe courtesy Emeril Lagasse, from Emeril at the Grill, Harper Studio Publisher, New York, 2009, courtesy MSLO, Inc.
Recipe Summary
Main Ingredients: amberjack filler, corn tortilla, avocado
Course: Lunch