Home
>
GMA
>
Recipes Home
>
Kai Chase's Strawberry and Spinach Salad with Grilled Shrimp, Apple, Gorgonzola and Raspberry Vinaigrette
Kai Chase's Strawberry and Spinach Salad with Grilled Shrimp, Apple, Gorgonzola and Raspberry Vinaigrette
Recipe Courtesy Kai Chase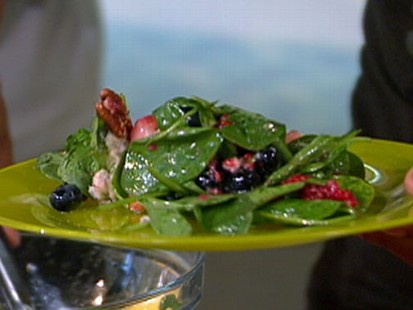 Chef Kai Chase shares recipes from some of her A-list clients.
From the kitchen of Kai Chase
|
Ingredients
For the salad:
2 pounds organic baby spinach leaves
1 basket strawberries, quartered
2 Granny Smith Apples, sliced
Shrimp (U-15 or 16-20), grilled and butterflied
1/3 cup pecans, toasted
1/4 cup Gorgonzola crumbles
For the vinaigrette:
1/3 cup raspberry wine vinegar or red wine vinegar
1/2 cup grapeseed oil
1 teaspoon Dijon mustard
1 small basket raspberries
1 tablespoon agave nectar
Cooking Directions
Add the raspberries, agave, mustard and vinegar into a small food processor. Stream the oil into the machine while the machine is running.
Run the machine until the raspberries are blended into the vinaigrette.
Grill the butterflied shrimp and place on and around the salad.
Toss the ingredients together and drizzle the vinaigrette across the salad.
Other Recipes That You Might Like