Pork Tenderloin with Plantain Mash and Tamarind Glaze
From 'Chef's Table'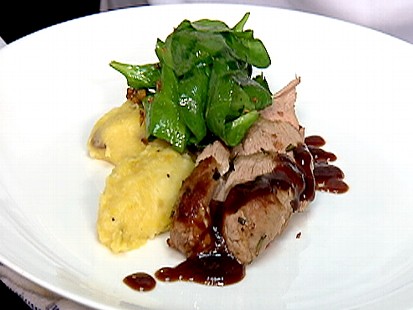 Chef Carmen Gonzalez serves meat with spicy flare.
From the kitchen of Carmen Gonzalez
Ingredients
For the Cassolette:
2 Pounds Pork tenderloin
½ Cup Extra virgin olive oil
3 Tablespoons Garlic, minced
1 Sprig Fresh rosemary
For the Sweet Plantain Mash:
3 Ripe plantains, peeled and cut in 4" Pieces
1 Quart Water
1 Teaspoon Salt
1 Tablespoon Butter, chilled and cut in 2-inch cubes
3 Tablespoon Heavy cream, warm
Salt and freshly ground pepper
For the Tamarind Sauce:
1/4 scotch bonnet pepper, seeded and minced
8 ounces frozen tamarind puree, thawed
1/2 teaspoon butter, chilled
For the Spinach:
12 Ounces Flat baby spinach
1/4 Cup Extra virgin olive oil
2 Tablespoons Lemon juice, freshly squeezed
1 1/2 Tablespoons Garlic, minced
Salt and freshly ground pepper
Cooking Directions
Combine the olive oil, garlic and rosemary in a mixing bowl. Add the pork tenderloins and turn to coat with the marinade. Marinate the pork in the refrigerator for at least 30 minutes but preferably overnight.
Preheat the oven to 400 degrees F. Remove the tenderloins from the marinade and discard the marinade but leave the herbs that cling to the meat. Sprinkle the tenderloins generously with salt and pepper. Heat 3 tablespoons olive oil in a large oven-proof saute pan over medium-high heat. Sear the pork tenderloins on all sides until golden brown. Place the saute pan in the oven and roast the tenderloins for 10 to 15 minutes or until the meat registers 137 degrees F at the thickest part.
Transfer the tenderloins to a platter and cover tightly with aluminum foil. Allow to rest for 10 minutes. Carve in 1/2-inch-thick diagonal slices.
In a stockpot bring water and salt to a boil. Add plantain and cook for 15minutes. Drain the plantains and pass it through a ricer. In mixing bowl combine the plantain with the butter, season with salt and pepper. Whip at medium speed with an electric mixer until smooth, keep warm till ready to serve.
In a small sauce pot over medium heat combine 1/4 of the scotch bonnet pepper with the tamarind puree. Bring slowly to a boil and reduce by 1/2. Add butter.
In mixing bowl toss spinach, lemon juice with salt and freshly ground black pepper. Meanwhile heat the oil and garlic in a small sauté pan over medium heat. As soon as the garlic starts to turn a dark golden brown, pour enough of the oil over the spinach to coat, making sure to add all of the garlic. Toss, check for seasoning and serve immediately.
To Plate
In a large pasta bowl mound the puree in the center of the plate, fan the pork tenderloin slices in front of the puree placing the spinach on top of the puree, drizzle the sauce over the tenderloin.
Recipe Summary
Main Ingredients: pork tenderloin, plantains, peppers, spinach, chorizo, olive oil, cream, garlic
Course: Dinner, Main Course
More Info: Kid Friendly