Rocco DiSpirito's Grilled Chicken with Warm Mango Salsa
A Chicken Dish That's Great for Summer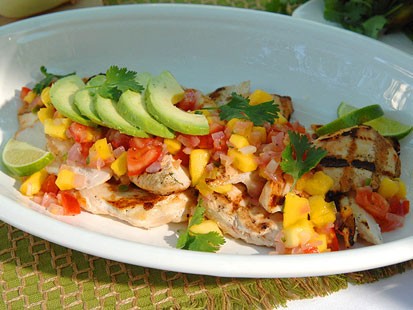 From the kitchen of Rocco DiSpirito
This is a light and simple chicken dish that's perfect for a summer barbecue. Although we eat more chicken than any other animal protein in the United States, the problem with most of it is that it is insipid and tired. A fruit-based salsa like this one offers some sweetness and acidity that really sparks up this ubiquitous bird. This recipe is simple too good not to include.
Ingredients
4 boneless, skinless chicken breasts, trimmed of all fat
Nonstick cooking spray
Salt and freshly ground black pepper
1 medium red onion, cut into small dice
1 small jalapeno, stemmed, seeded, and chopped fine
1 medium tomato, cut into small dice
1 large mango, seeded and skin removed. Cut into small pieces.
Grated zest and juice of 2 limes
2/3 cup chopped fresh cilantro
1 small avocado, seeded, peeled, and sliced
Cooking Directions
Preheat a grill or grill pan over high heat.
Spray the chicken breasts lightly with cooking spray, and season them with salt and pepper to taste. Grill the chicken until it is just cooked through, about 3 minutes per side. Transfer the chicken to a platter, and cover it with foil to keep it warm.
Meanwhile, heat a large nonstick sauté pan over medium-high heat. When it is hot, spray the pan with cooking spray, and add the onion. Season with salt and pepper and cook, stirring occasionally, until almost tender, 5 to 6 minutes. Add the jalapeno, tomato, and mango, and cook the salsa, stirring it occasionally, until it is just heated through, 4 to 5 minutes.
Add the lime zest, lime juice, and cilantro to the salsa. Season to taste with salt, if desired. Serve the chicken with the warm salsa and avocado slices on top.
*Recipe courtesy of Rocco DiSpirito; "Now Eat This"; Ballantine Books, 2010.
Recipe Summary
Main Ingredients: chicken breasts, mango, avocado
Course: Dinner, Lunch, Main Course, Party Platter