Rocco DiSpirito's Apple Pie
A Lighter Version of an American Favorite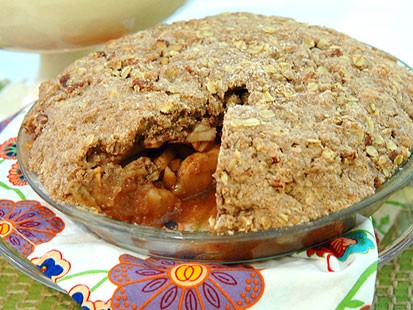 From the kitchen of Rocco DiSpirito
|
This country was built on apple pie with a very flaky crust, thanks to an abundance of lard or vegetable shortening. Instead of an overly caloric full-blown crust, this lightened-up pie has a crumbly Brown Betty-type topping. When you pulse the topping mixture, don't overmix or it will be tough -- not melt-in-your-mouth tender. If you must serve ice cream with this pie, look for a low-cal alternative. The usual scoop of "a la mode" adds 250 to 350 calories.
Ingredients
Filling:
1 1/2 teaspoons ground cinnamon
1/2 teaspoon salt
1 teaspoon cornstarch
6 packets (21 g) Truvia
10 medium to large Granny Smith apples, peeled, cored, and cut into 1/3-inch-thick slices
Topping:
1/4 cup plus 2 tablespoons old-fashion rolled oats
3/4 cup granulated Splenda
1/2 cup whole-wheat pastry flour, such as Whole Foods' 354 Everyday Value
1/2 teaspoon salt
1 teaspoon ground cinnamon
4 tablespoons of very cold unsalted butter, cut into small chunks
1/4 cup chopped pecans
1/2 large egg white
Cooking Directions
Preheat the oven to 400° F.
To make the filling, in a large bowl, mix together the cinnamon, salt, cornstarch, and Truvia. Add the apples and toss with the cinnamon mixture. Transfer the apples to a 9-inch glass baking dish, mounding them high.
To make the topping, combine the oats, Splenda, flour, salt, and cinnamon in the bowl of a food processor, and pulse just to combine. Add the butter and pecans, and pulse a few times to make a crumbly mixture. Add the egg white and pulse a few times, until small clumps of crumble start to form. Scatter the crumble mixture over the apples, covering as much surface area as possible.
Cover the pie with aluminum foil and bake for 1 hour. Raise the oven temperature to 425°F, remove the foil, and continue to bake until the apples are tender and the crumble topping is golden brown, about 15 minutes. Allow the pie to rest for 5 minutes and serve warm.
Serves 12
*Recipe courtesy of Rocco DiSpirito; "Rocco Gets Real"; Ballantine Books, 2010.
Other Recipes That You Might Like