Hill Country Smoked Chicken Wings
Celebrate Independence Day With This Great BBQ Dish!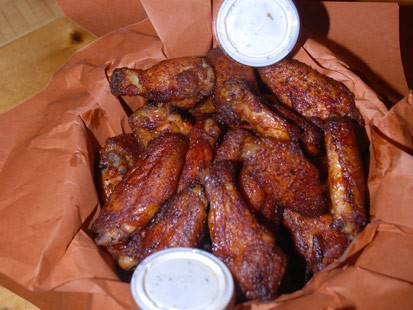 From the kitchen of Elizabeth Karmel
Ingredients
1 batch Three-Chili Chicken Wing Rub (CLICK HERE for the recipe)
4 pounds large chicken wings and/or drummettes
Olive oil
Buttermilk Ranch Dressing (CLICK HERE for the recipe) for dipping (or your favorite Blue Cheese Dip)
Wood chips, soaked in water for thirty minutes
Cooking Directions
Sprinkle chicken wings with rub. Placed seasoned chicken in a heavy-duty re-sealable plastic bag. Seal bag. Turn chicken occasionally to make sure all surface areas are covered with rub. Let "marinate" for 2 hours covered in the refrigerator or as long as overnight.
When ready to cook, preheat a gas grill with a smoker box or light a charcoal fire. Set grill for indirect/medium-low heat.
Remove chicken wings from bag and place them in the center of the cooking grate over indirect heat. Discard bags. Close the lid to the grill and let grill/smoke for 20-25 minutes or until beginning to brown. Turn over and continue cooking for another 20 minutes or until the wings are slightly crispy and completely cooked through. Remove from grill, place on a clean platter and sprinkle with sea salt if desired. You may want to brush them lightly with olive oil to give them a glossy sheen, but this is optional as wings have enough natural fat in them to keep them moist. Note: depending on the size of the wings, you may need to cook them longer on each side. The "Texas" sized wings that we use at Hill Country take about 30-40 minutes on each side to cook through.
Serve alone or with the traditional sides of celery and for a Texas-inspired twist, try Buttermilk Ranch Dressing instead of the classic Blue Cheese dip.
Note: If you find yourself in a place without a grill and want to make these, preheat your oven to 350°F (if your oven runs hot, reduce the temperature to 325°F) and place the wings on a sheet pan fitted with a rack. Roast the wings in the oven for 20-25 minutes, take them out and turn them over with a pair of tongs. Place the pan back in the oven and continue cooking until golden brown and cooked through. Sprinkle with salt and brush lightly with olive oil if desired.
Recipe Summary
Main Ingredients: chicken wings, chicken drums
Course: Dinner, Main Course, Lunch, Party Platter, Appetizer/Starter