Shannon Payette Seip's Cookie Cones
Recipe Courtesy Shannon Payette Seip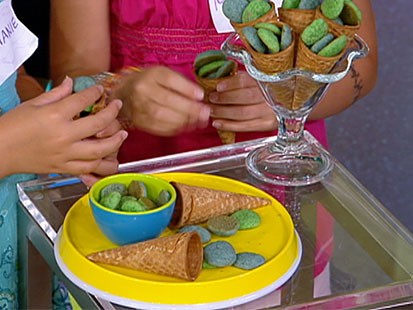 From the kitchen of Shannon Payette Seip
Ingredients
1/3 stick unsalted butter, softened
1/4 cup packed light brown sugar
2 tablespoons Chickpea Puree (recipe can be found here)
1/4 teaspoon vanilla extract
1/2 cup Bean Appetit Flour Blend (recipe can be found here)
Pinch of salt
Natural food coloring (available at natural food stores)
Frosting
4 ice cream cones
Sprinkles
Tiny cookie cutters
Cooking Directions
Preheat the oven to 350 degrees F.
Before you begin, say something sweet to each other. In a large bowl, use an electric mixer to beat the butter, brown sugar, Chickpea Puree, and salt until light and fluffy. Add the vanilla and mix.
With the mixer on low, yell, "Flour power!" as you add the flour blend, and mix just until all the ingredients are combined.
Divide the dough between 2 bowls. In one bowl, add a few drops of 1 food coloring. In the other, add a few drops of another food coloring. Stir until the doughs are the colors you like.
Wrap both doughs separately in plastic, and chill in the freezer for 10 minutes.
While your cookie dough is chilling out, use a butter knife to frost the edges of the ice cream cones, to about 1/2 inch down from the rim. Coat the frosting with the sprinkles. Set the cones aside.
After your dough is firm, use a rolling pin to roll it to a 1/8-inch thickness. Use the tiny cookie cutters to create fun shapes.
Place the cookie shapes on a greased cookie sheet and bake for 5 to 7 minutes, until they're slightly firm. Let cool.
Place your cookies in the cones, as many as you can heap in. No need to worry about them melting!
Recipe Summary
Main Ingredients: unsalted butter, vanilla extract, ice cream cones, sprinkles, frosting
Course: Snack, Dessert, Cookies