Shannon Payette Seip's High Note Nibbles
Recipe Courtesy Shannon Payette Seip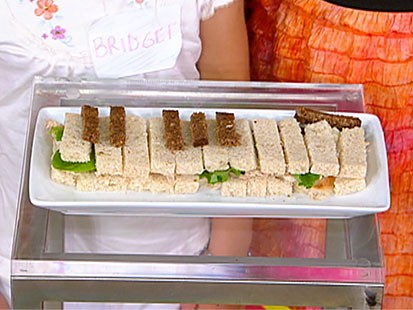 From the kitchen of Shannon Payette Seip
Ingredients
1/2 cup plain yogurt
1 Granny Smith apple, cored and diced
1 tablespoon packed light brown sugar
1 1/2 teaspoons lemon juice
Pinch of garlic powder
Pinch of ground coriander
Pinch of ground cinnamon
2 tablespoons honey
1 1/2 cups rotisserie chicken, shredded
1 medium carrot, diced
4 slices whole wheat bread
2 slices rye bread
Cooking Directions
Hum your favorite tune as you combine the yogurt, apple, brown sugar, lemon juice, garlic powder, coriander, and cinnamon in a mixing bowl. Add the honey, chicken, and carrot and mix well. Make 2 sandwiches on the whole wheat bread and 1 sandwich on the rye bread.
Cut the crusts off all the sandwiches, then cut the crustless whole wheat sandwiches into 1 by 2 1/2 inch slices. Cut the crustless rye sandwich into 1/3 by 1 1/4 inch slices.
Arrange the "white keys" (whole wheat sandwich slices) side by side on a platter, and the "black keys" (rye sandwich slices) on top and in between the white keys to look like a piano keyboard. Pretend you're playing the keyboard in your favorite band before digging in!
Recipe Summary
Main Ingredients: plain yogurt, apple, honey, rotisserie chicken, carrot, whole wheat bread, rye bread
Course: Lunch