Rick Bayless' Bacon and Tomato Guacamole
Try This Authentic Mexican-American Dip at Your Summer Party!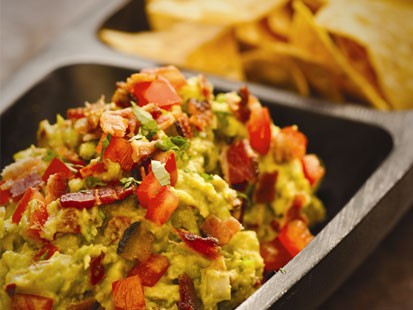 From the kitchen of Rick Bayless
|
Ricky Bayless shares summer recipes from "Fiesta at Rick's: Fabulous Food for Great Times with Friends."
This is kind of a no-brainer, bacon, lettuce and tomato being such a beloved sandwich combo, especially when there's a good smear of mayo. This guacamole is in the same vein, except that the tangy, creamy mayo is replaced by avocado and lime. Come to think of it, the avocado, along with a little cilantro, brings the lettuce-green to the picture as well. It's a perfect Mexican-American fusion of smoky, bright, creamy, fresh and satisfying. -- Rick Bayless
Ingredients
5 strips medium-thick bacon (full-flavored smoky bacon is great here)
3 medium-large (about 1 1/4 pounds) ripe avocados
1/2 medium white onion, chopped into 1/4-inch pieces
2 or 3 canned chipotle chiles en adobo to taste, removed from the canning sauce, stemmed, slit open, seeds scraped out and finely chopped
1 medium-large round, ripe tomato, cored and chopped into 1/4-inch pieces
1/4 cup fresh cilantro, loosely packed, coarsely chopped, thick bottom stems cut off
Salt
1 or 2 tablespoons fresh lime juice
Cooking Directions
In a large (10-inch) skillet, cook the slices of bacon in a single layer over medium heat, turning them occasionally, until crispy and browned, about 10 minutes. Drain on paper towels, then coarsely crumble.
Cut around each avocado, from stem to blossom end and back again, then twist the two halves apart. Dislodge the pit. Scoop the flesh from the skin into a large bowl. Using an old-fashioned potato masher or a large fork or spoon, mash the avocados into a coarse puree.
Scoop the onion into a small strainer and rinse under cold water. Shake off the excess water and transfer to the bowl, along with the chipotle chiles, tomatoes, cilantro (save out a little for garnish if you wish) and about 2/3 of the bacon.
Gently stir to combine all of the ingredients. Taste and season with salt, usually about 1/2 teaspoon, and enough lime juice to add a little sparkle.
Cover with plastic wrap directly on the surface of the guacamole and refrigerate until you're ready to serve. Scoop the guacamole into a serving dish, sprinkle with the remaining bacon (and cilantro if you have it), and you're ready to serve.
Tip: If the tomato is really ripe and juicy, cut it in half widthwise (across its "equator"), then gently squeeze out the jelly-like seeds from each half. That'll keep the guacamole from becoming runny.
If you're not serving right away, wait to stir in bacon to ensure the crispy texture!
Other Recipes That You Might Like