Emeril's Basil-Macerated Peaches
From 'Farm to Fork'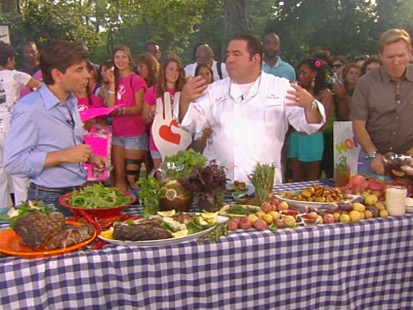 The chef prepares a T-bone steak, roasted potatoes and sauteed peaches.
From the kitchen of Emeril Lagasse
|
Did you know there are at least 25 varieties of basil, coming in all shapes, sizes, flavors and scents? Basil is actually a member of the mint family, making it useful in both sweet and savory dishes. Opal basil is similar in flavor to sweet basil, but I chose opal basil for this dish because I just love the color of its deep purple leaves. Basil lends an unexpected flavor to this simple dessert.
Ingredients
4 firm-ripe peaches, peeled, pitted, and quartered
1 ounce opal basil leaves (about 2 cups loosely packed)
1 teaspoon grated lime zest
1 cup sugar
1 cup water
Homemade creme fraiche, for serving
Cooking Directions
Place the peaches and basil in a medium bowl, and set it aside. Combine the lime zest, sugar, and water in a medium saucepan. Bring to a boil, stirring to dissolve the sugar. Lower the heat and simmer for 2 minutes. Then pour the hot syrup over the peaches and basil. Cover, and chill for 2 hours.
Serve the peaches in small bowls, garnished with a dollop of creme fraiche if desired.
* Recipe courtesy Emeril Lagasse, "Farm to Fork: Cooking Local, Eating Fresh" courtesy MSLO, Inc
Food styled by Karen Pickus
Other Recipes That You Might Like