Jerk-Rubbed Pork Chops
You Can Grill or Pan-Sear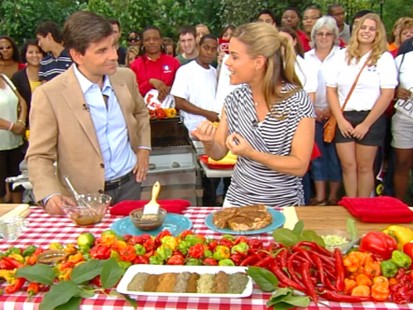 The chef prepares jerk-rubbed pork and tomato-mozzarella skewers.
From the kitchen of Cat Cora
|
The pork in this recipe has a delectable citrusy, spicy flavor. Look for jerk-seasoning packets with an ingredient list in which you recognize every word.
Ingredients
2 limes
2 tablespoons jerk seasoning
1 tablespoon extra-virgin olive oil
4 boneless pork loin chops, each 3/ 4 to 1 inch thick (about 1 pound total)
8 fresh sprigs cilantro, for garnish
Cooking Directions
Zest one of the limes and juice it. Put 1 tablespoon lime zest and 1 tablespoon lime juice in a small bowl. Add the jerk seasoning and the olive oil and stir until the mixture forms a thick paste. Spread the lime-jerk paste on both sides of each pork chop and put the chops on a plate. Let the chops marinate at room temperature for 30 minutes to 1 hour.
To grill the pork chops, light a charcoal grill about 30 minutes before you're ready to cook or preheat a gas grill to medium-high. Place the chops on the grill. After 6 minutes, turn the chops and cook until they are brown outside and slightly pink inside, another 5 to 6 minutes. Remove from the grill and let the chops rest for about 5 minutes. While they're resting, cut the remaining lime into wedges. To serve, place 1 pork chop on each plate and garnish with a lime wedge and 2 cilantro sprigs.
Cat's note: Instead of grilling, you can pan-sear the chops in a frying pan on the stove. Just add 2 tablespoons olive oil to a large cast-iron skillet or frying pan. Turn the heat to high and, when the oil shimmers and just begins to smoke, add the meat. Cook for 3 to 4 minutes, then turn the chops and cook for another 3 to 4 minutes.
*Courtesy of Cat Cora's "Classics With a Twist"
Other Recipes That You Might Like