Summer Tomato Salad
Chef Gale Gand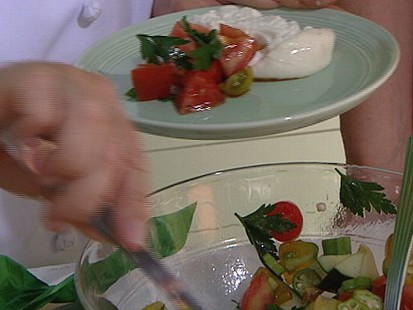 Tru exec pastry chef Gale Gand delivers farm to table.
From the kitchen of Gale Gand
|
Ingredients
For the Summer Salad:
Variety of heirloom tomatoes but at least:
1 red tomato, cut up
1 orange tomato, cut up
1 yellow tomato, cut up
6 cherry or teardrop tomatoes, red and yellow, halved
4 pieces fresh okra, sliced
1/2 seedless cucumber, halved and sliced
1/4 cup extra virgin olive oil
2 tablespoons balsamic vinegar
2 torn basil leaves
salt and pepper to taste
1-8 ounces ball of Buratta cheese
Add in pieces flat leave parsley to taste
Cooking Directions
To Prepare Summer Tomato Salad:
Chop vegetables separately. Can be various shapes and thickness.
In a bowl place all the ingredients except the buratta and toss balsamic to coat.
Place a large spoonful of the tomato salad on each of 4 plates.
Cut the buratta in quarters and place one piece on each plate next to the tomato salad.
Other Recipes That You Might Like