Baked Eggs in Ham Cups
Gale Gand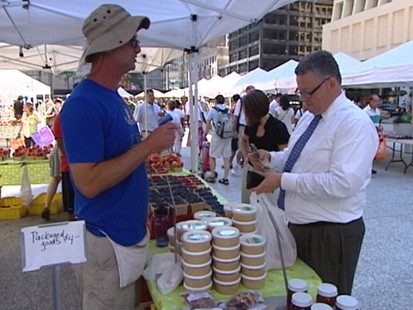 Epicurious and exec pastry chef Gale Gand explore the produce.
From the kitchen of Gale Gand
|
Ingredients
For the Dish:
2 teaspoon butter for the pan
4 slices of ham that's round
1 teaspoon pesto
8 eggs
4 cubes of mozzarella fresh or domestic
4 cherry tomatoes, cut in half
Black pepper to taste
Cooking Directions
To Prepare Baked Eggs in Ham Cups:
Butter 4 compartments of a metal muffin tin well.
Fold the ham slices into quarters and then place one in each cup to line it with ham. It will ruffle which is what you want.
Place ¼ teaspoon pesto in the bottom of the ham cup, then crack two eggs into a cup and pour it in. Tuck in a piece of mozzarella, two halves of cherry tomatoes and another ¼ teaspoon pesto then sprinkle with pepper to taste. No salt needed because the ham may be salty and the pesto has some in to too.
Bake in a 375 degree preheated oven for 12-15 minutes till the white looks set but the yolk is still a bit runny. Remove form the muffin tin and serve in small bowls or line them up on a platter to serve.
Other Recipes That You Might Like