Rocco's Low-Cal Macaroni and Cheese
With a Crusty Crunch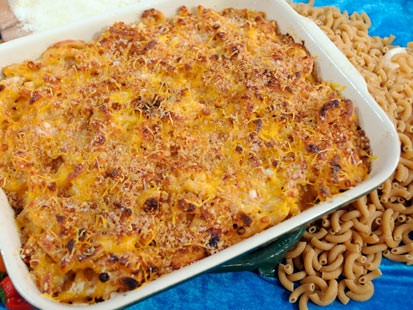 From the kitchen of Rocco DiSpirito
"Of all the dishes that were suggested for this book, mac 'n' cheese came up most often. Everyone loves it—and everyone knows how nutritionally bad it can be. Calories start at 600 per serving and go into the thousands. It's a dish that has become so rich that taming its fatty side proved to be quite a challenge. The base of the sauce in this version isn't cream, but a puree of cooked onions and garlic. It gives the dish lots of flavor with not so much as a gram of fat. The very hot oven makes the breadcrumbs on top get nice and crunchy. It's the combination of crisp and gooey textures that makes this a winning dish."
-Rocco DiSpirito, "Now Eat This!"
Ingredients
Nonstick cooking spray
4 ounces whole-wheat elbow macaroni

½ cup Onion-Garlic Puree (Click here for the recipe.)

½ teaspoon dry mustard
Pinch of cayenne pepper
1 cup shredded 50% reduced- fat cheddar, such as Cabot
¹/³ cup nonfat Greek yogurt
Salt
¼ cup whole-wheat panko breadcrumbs, such as Ian's All-Natural
¼ cup grated Parmigiano-Reggiano cheese
Cooking Directions
Preheat the oven to 425°F. Spray an 8×8- inch baking dish with cooking spray, and set it aside.
Bring a large pot of salted water to a boil. Add the macaroni and cook according to the package directions, 7 to 9 minutes; drain.
While the pasta is cooking, bring the Onion- Garlic Puree, mustard, and cayenne to a simmer in a small saucepan over medium heat, stirring often. Whisk in the cheddar until it has melted. Remove the pan from the heat and whisk in the yogurt.
In a medium bowl, toss the cooked macaroni with the cheese sauce to coat thoroughly. Season with salt to taste. Pour the macaroni into the prepared baking dish, and sprinkle the panko over the top. Top with the Parmigiano- Reggiano.
Bake until the cheese has melted and the macaroni is hot throughout, about 10 minutes. Serve immediately.
NOW YOU CAN EAT THIS!
Before After
Fat 32g 6.5g
Calories 670 227
Protein: 16g | Carbohydrates: 29g | Cholesterol: 20mg
Fiber: 3g| Sodium: 487mg
Food styled by Karen Pickus.
Recipe Summary
Main Ingredients: pasta, garlic, onions, cheese
Course: Dinner, Main Course, Lunch, Party Platter, Pasta, Brunch