Rocco's Grilled Turkey Salisbury Steaks with Tomatoes and Provolone Sauce
The Grilled Version Makes the Grade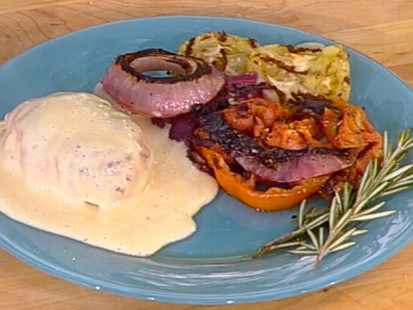 The chef prepares healthier versions of Salisbury steak and fruit cobbler.
From the kitchen of Rocco DiSpirito
Classic Salisbury steak is a patty made of ground beef and seasonings that is fried in butter or oil and smothered in a brown sauce. Although it was once considered health food by its inventor -- a 19th century English-American physician named James Salisbury -- it's really not. This grilled version, made with ground turkey breast and fresh vegetables and smothered in a low-fat cheese sauce, makes the grade.
Ingredients
1 1/4 pounds ground turkey breast
3 tablespoons chopped fresh rosemary
Salt and freshly ground black pepper
Nonstick olive oil cooking spray
2 medium heirloom tomatoes, cut into 1/2-inch-thick slices
1 medium red onion, cut into 1/2-inch-thick slices
1 cup evaporated skim milk
1 tablespoon cornstarch
1/2 cup shredded sharp provolone cheese
Cooking Directions
Preheat a grill or grill pan over high heat.
In a medium bowl, combine the turkey and rosemary until well combined. Divide the mixture into 4 equal portions. Form each portion into an oval patty about 3 inches wide, 5 inches long, and 1 inch thick. Season the turkey "steaks" with salt and pepper to taste, and spray them lightly with olive oil spray. Place them on the hot grill.
Spray the tomato and onion slices with olive oil spray, and season them with salt and pepper to taste. Place them on the grill next to the turkey steaks. Grill the turkey steaks and onions for 3 to 4 minutes per side. Grill the tomato until charred and warmed through, about 2 minutes per side.
Meanwhile, whisk the evaporated milk into the cornstarch in a small bowl. Pour the mixture into a small saucepan, and bring it to a boil over high heat, whisking constantly. Reduce the heat to low and continue to cook until the sauce has thickened, about 1 minute. Whisk the cheese into the sauce until melted. Season the sauce with salt and pepper to taste.
Pile the tomato and onion slices on top of the turkey steaks. Spoon the cheese sauce on top, and serve.
NOW YOU CAN EAT THIS!
Before After
Fat 32.3g 6g
Calories 440 290
Food styled by Karen Pickus.
Recipe Summary
Main Ingredients: turkey breast, heirloom tomatoes, red onion, skim milk, provolone cheese
Course: Dinner, Main Course, Lunch, Party Platter, Brunch